Aspen to Vail Distillery Tour – Play, Eat, Drink, Repeat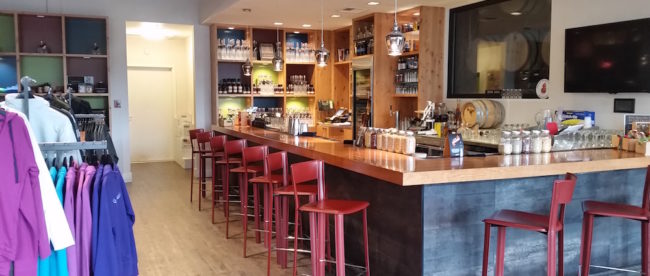 Craft libations aren't a new concept in Colorado, as the well-established brewery evolution throughout the state has seemed to have carved the way for local spirit innovations. While the Front Range started the momentum for this movement, mountain towns are keeping right up. In the valleys of Aspen and Vail alone, there are more than ten breweries and distilleries to tour and visit.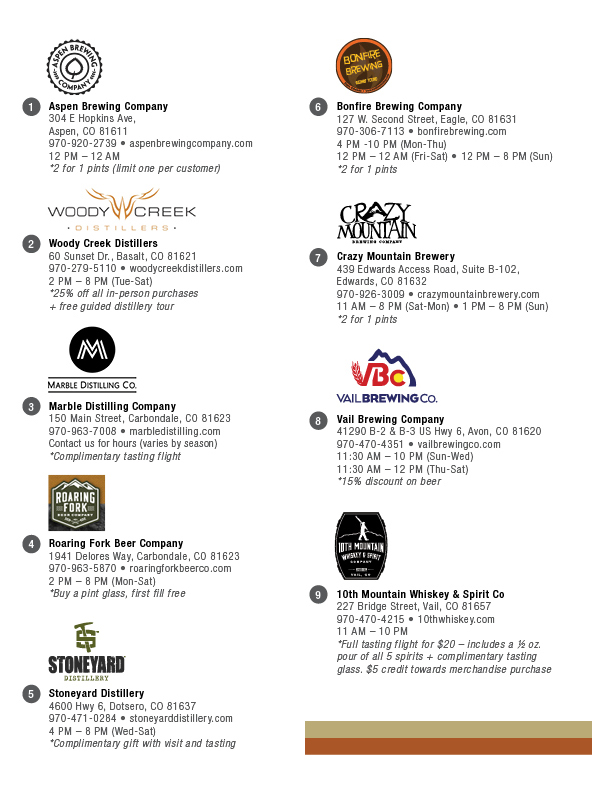 There's only one dilemma: how will you taste your way to them all? Well…we have a map and that is a good start! Here are some suggestions for getting out and then heading in for some great libations.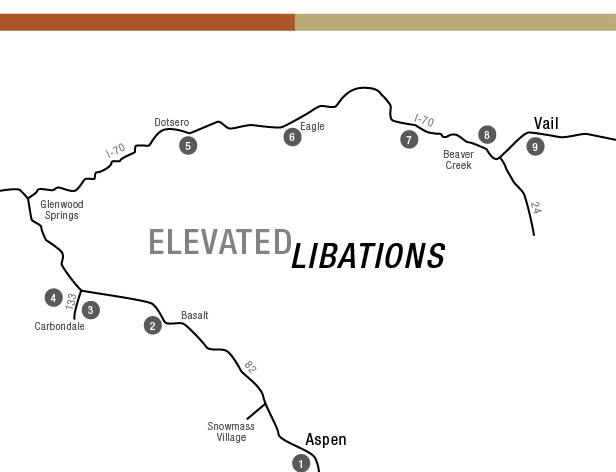 Aspen
Head out for an early day hike on the locals-favorite loop: Hunter Creek Trail to Smuggler Mountain. A steady incline takes you over bridges that cross the rushing creek, and the view from Smuggler gives a special angle to all of Aspen. To follow, lunch at Meat and Cheese is a must. Enjoy it on the patio with a glass of rosé, alongside a board of, yes, meat and cheese.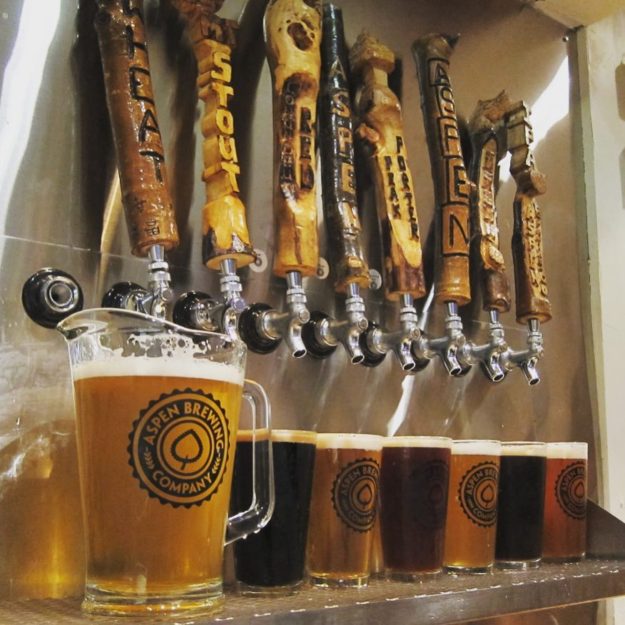 When your tasting tour begins, stops like Aspen Brewing Company's new Aspen Tap at 121 Galena Street, Aspen, gives full mountain flavor. As owner and manager, Duncan Clauss, describes, the brewery is "downstream from nobody. Our beer started with some of the best water in the world, coming from our pristine Elk Mountain Range," he said. "Coloradoans are proud of their environment, and beer is no exception."
The brewery has a social scene with that post outdoor-play buzz that intoxicates so many who live and visit this state.
"Colorado has an amazing beer history and craft beer culture," Clauss said. "In addition, craft beer is just one spoke in the wheel of locally sourced goods and services, and Colorado is all about local pride."
Vail
In Vail, fly fishing with guides from Gore Creek Fly Fisherman is an invigorating way to spend the morning in the outdoors before a tasting tour. The mountain rivers create a peaceful scene with their shimmering waters, while still full of movement and life. It's a simple joy to spend a few hours in them casting for a high-country catch.
Just as Clauss mentioned, it's this crisp and clean Colorado water that can make for such great brews and spirits. It's also the love of the outdoors that seems to keep the people of this state thirsty for more. Each establishment has unique distilling and brewing methods that sets it apart from the rest, so marathon tasting days don't get old, but they do get really fun.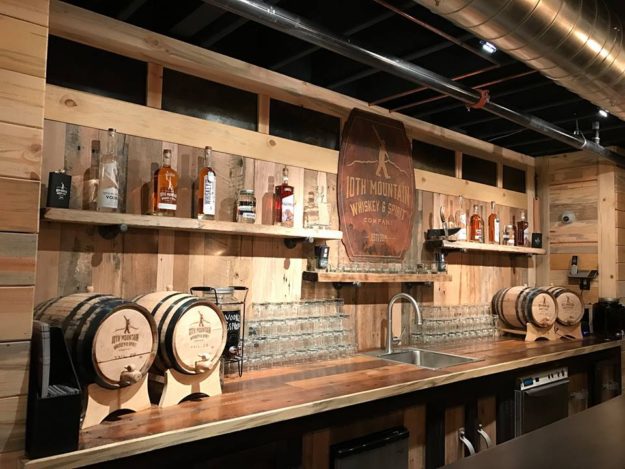 Ian Tulk, manager for 10th Mountain Whiskey and Spirit Company in Vail, said that Colorado has been on the forefront for the craft beer market for decades, and is now the "spirit revolution" is leading the way.
"I think most people in Colorado enjoy the 'earn your turn' mentality and they are proud of it," Tulk said. "We also want quality and uniqueness in the food and drink. So we push ourselves in that realm as much as we do on the mountain or trail — we are always looking for new and better and unique."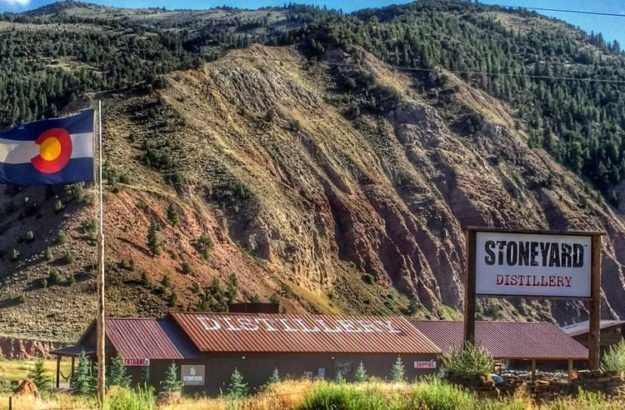 Max Vogelman, master distiller for Stoneyard Distillery in Dotsero — 30 minutes west of Vail, said he also thinks Coloradans themselves are the reason for the state's place on the cutting edge of craft spirits.
"They drink heartily, have good taste, and are open to new ideas," Vogelman said. "The craft beer industry in Colorado has really paved the way for spirits, showing just how open the market is for new and creative diversity."
Colorado's high-country libations make their way into many mountain bar menus, too, and locally sourced restaurants like Sweet Basil and Root and Flower in Vail carry many of the state's craft creations.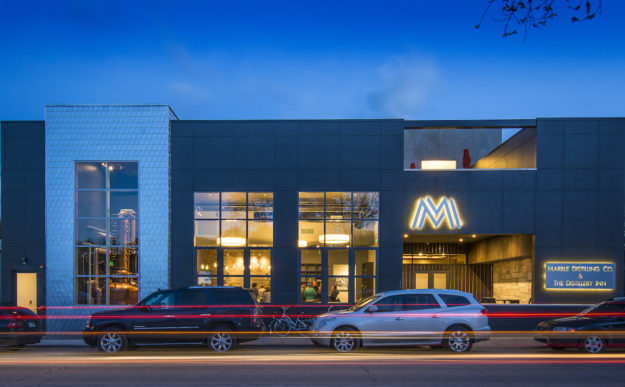 Speak to Clauss, Tulk or Vogelman in person, or the three couples who started Marble Distillery, the head distiller of Woody Creek Distillers and the founders of Bonfire Brewing, and all of them will tell you it's not just about business for them, it's a passion they are excited to share, along with their stories and their tasty, elevated libations.
by Kim Fuller
MTN Town Magazine | We are Colorado's Mountain Town Magazine
Copyright © 2018 MTN Town Magazine all rights reserved.