A Dramatic Breckenridge Renovation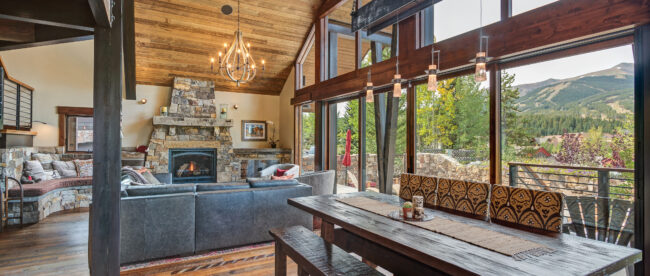 We chatted with Michael Rath, Chief Executive Officer at Trilogy DesignWorks about his idea to take a non-descript older home in Breckenridge and transform it into a beautiful mountain retreat.
What did you want to accomplish with this project?
Take a rather poorly designed and constructed late 80's home located ideally in downtown Breckenridge and transform it into a masterpiece both in livability and in architectural expression. This 3200 Square Foot, two-story home, encompasses 3 bedrooms with 4 baths and an open floor plan that includes a Rec Room, Pantry, and Loft. An added amenity is the very cool attached traditional dry sauna.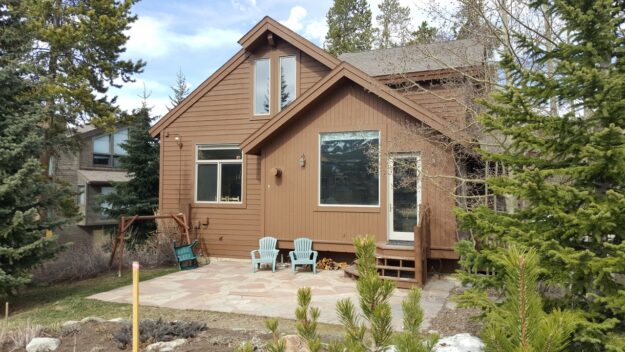 What made this project so interesting? 
Perhaps the best site in all of downtown Breckenridge for a home. Just steps from the bustle of America's busiest ski town, yet located on a quiet street with commanding views of the town and the ski mountains. It's the best patio in town, a secret oasis with terrific sun and views and atmosphere.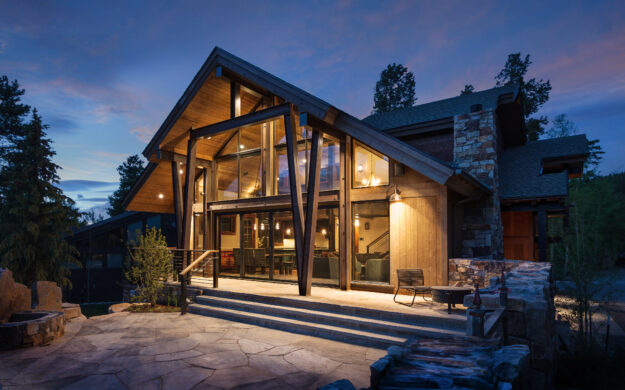 Tell us how you modernized the home?
One of the things the owner commented on when we first met was that the original home wasn't very well built, and we confirmed that. We reengineered and then demolished and reconstructed everything above the lower level using a whole lot of steel. In fact, that steel became a major architectural and design element. We brought all the insulation and windows up to current Sustainable Codes. And then energized and automated everything with a full complement of automation and high-tech gadgetry common in high-quality homes in the area. Lighting, Shades, environmental controls, AV are all operated from touch screens and phone of your choice. 
What suppliers did you use? What's the process for tackling a project like this?
As the Design and Build project manager, our first job is to bring the clients and the team to the table. Then we carefully set the project intentions. In this instance, we immediately focused on merging the home with its one of a kind setting. We imagined really large windows and dramatic steel elements that would frame the views of the town and ski area. We next created a geolocated virtual 3d Model with allowed us to optimize views and atmospherics. For interior design, the model allowed us to visualize a kind of rustic modern including a great room fireplace with integrated lounge seating and hidden television, a floating staircase of steel and thick oak treads, faux plate steel expressions, and some custom light fixtures designed in-house. This was a fun collaboration with our favorite local fabricators who provided the reclaimed oak floors, steel fabrication, countertops, masonry, and custom cabinetry.
Any other interesting features to note?
Exterior steel structural elements are striking and modern flowing into the traditional weather-worn siding and other exterior elements. The landscaping is exquisite with a crumbling masonry wall that frames the views of the town and the mountains. Inside, the vast expense of windows in the great and dining room provide tremendous views and oversized sliding glass doors open to connect the outside to the in, making this a wonderful habitat for those warm and sunny summer days.
What else can you tell us?
Probably the most dramatic before and after transformation of a home you can imagine. A partial teardown of a functionally obsolete home with no views and no personality. Being able to see past what is present and limiting to what is possible was central to the successful development of the ideal Breckenridge town family retreat. Ironically, one of the owners was really hesitant about the remodel as it would mean losing her home for the 14 month construction period. But she is a huge fan of the transformed home, and now admits the sacrifice was absolutely worth it. As for me, of all the dozens of Breckenridge homes we've been a part of building over the years, this would be the one I would choose for myself. Perfect location, terrific views, and great floorplan, not too big or small. Walk to downtown or the lifts. Just ideal.  www.trilogybuilds.com
by Pepper Hamilton
For More Information on MountainTown: Breckenridge head to www.MountainTownBreckenridge.com
MTN Town Media Productions | Celebrating Colorado's mountain lifestyle and culture
Copyright ©2021 Mountain Town Magazine all rights reserved.
Post Sponsored by