A-Basin Rise & Shine Rando Races Kickoff and Up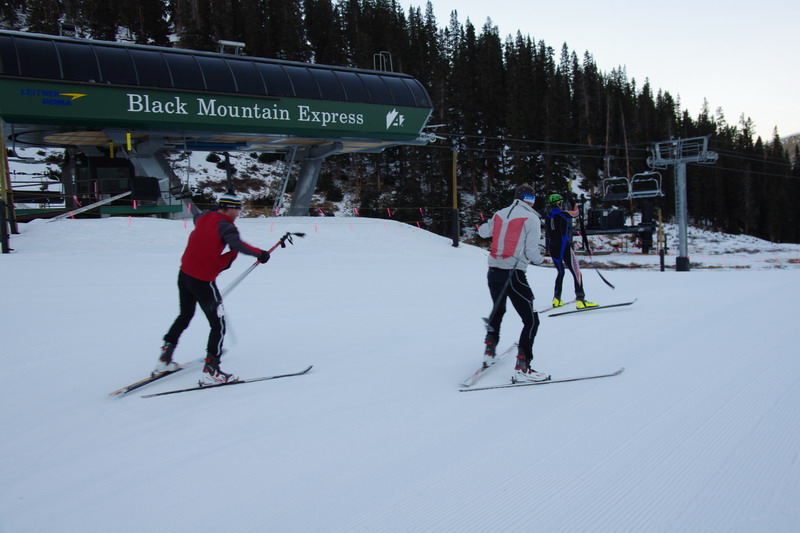 Arapahoe Basin rando enthusiasts were out bright and early as A-Basin kicked off its "Rise & Shine Rando Uphill Series" yesterday. 34 early risers were positioned and ready to skin up the mountain at sunrise. The race, sponsored by Wilderness Sports, started at 7:00am in the base area and finished at the summit near the top of the Montezuma Lift. The race incorporated uphill, downhill and bootpack components. Their top male finisher was Greg Ruckman who clocked in at 40:05.18 and the top female finisher was Becs Hodgetts who finished in 54:18.98.
There are three more races in this series: Tuesday 12/18; Tuesday 1/8/13 and Tuesday, 1/22/13. Here are the specifics of the races:
Start: 7:00 a.m.
Cost: $20/race or $70 for all four (must register for all four at the same time) Other race dates: 12/4/12, 1/8/13, 1/22/13
Click here to register online (recommended).  Online registration ends at midnight before the race.
Day-of registration starts at 6:00 a.m. in the Rental Shop.
Divisions: Male and Female
Prizes will be awarded to the top 3 male and top 3 female finishers in each race.
Sponsored by Wilderness Sports.
Course Description:
The race will begin at the Arapahoe Basin wind flag in the base area. At the sound of the horn, racers will make their way up High Noon to Black Mountain Lodge. At Black Mountain Lodge, racers must skin around the wing flag before returning to the base area, via High Noon. From the base area, racers must go around the start flag before making their way back up to Black Mountain Lodge.  Racers continue past Black Mountain Lodge and up Dercum's Gulch to Lenawee Face and the top of the Lenawee Chair.
Note: The A-Frame will operate under normal business hours, and will not be serving breakfast until 7:15am on race days. Please plan accordingly.
What a great way to get up, get out and get fit! Who needs caffeine when you can have endorphines.
~MTN Town Magazine
Photo Credits: Arapahoe Basin

MtnTownViews.com is MTN Town Magazine's daily journal blogging about Colorado's mountain towns. Like them on Facebook and Follow on Twitter.
© 2012, MTN Town Magazine. All rights reserved. Republication, in part or entirety, requires permission.