75 Years of Ski Joring & Festivity in Leadville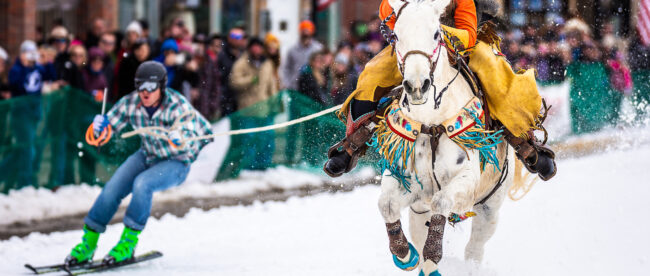 Leadville Ski Joring and Crystal Carnival celebrates 75 Years
This weekend marks the 75th Year of Celebrations in Leadville. At the 75th Leadville Ski Joring and Crystal Carnival Weekend, see the unique sport of ski joring, join mountain bike and Nordic ski races, enjoy live music and dancing, and other kinds of winter fun. The event will take place March 3-5, 2023. Spectators can cheer the horses and skiers on Saturday and Sunday, from 12 p.m. to 3 p.m. both days. Bid on a team at the Calcutta auction or line up on Harrison Avenue to watch the excitement. Kids can get in on the action, too, and try ski joring behind a snowmobile on Saturday after racing concludes. The event is free to watch, but no dogs or drones are allowed. 
What is Ski Joring?
Leadville Ski Joring is an action-packed sport where a horse and rider race down snow-packed Harrison Avenue in Leadville's downtown, pulling a skier who's holding onto a rope. As the horse gallops, the skier flies over jumps and spears rings set up along certain parts of the course. See what the New York Times had to say about this thrilling event in The Wild West, On Skis.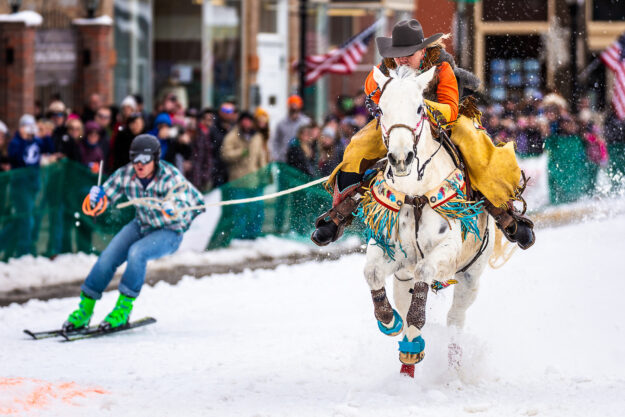 Crystal Carnival Weekend Winter Races
Visitors can enjoy additional unique winter races, including:
Schedule:
9 a.m. – Calcutta Auction (6th & Harrison Ave.)
Noon – National anthem, then ski joring begins: Open division, Sport division, Snowmobile division.
Post-race – Awards at the Elks Club (123 W. 5th St.).
Weekend Parties and Events
Friday, March 3
11 a.m.-Noon – Come early and ski with a ranger at Ski Cooper. Learn about animal tracks, trees, and the history of the 10th Mountain Division ski troopers, who trained for World War II at Cooper hill.
6-9 p.m. – Spirits in the Shaft kicks off the weekend. This wine, whiskey, and beer tasting is wild West fun at the National Mining Hall of Fame and Museum. Costume encouraged.
7-9 p.m. – Tell and hear intriguing stories at the Yak storytelling event at FREIGHT.
Saturday, March 4
11 a.m.-4 p.m. – Stop by the warming station at the historic Tabor Opera House (308 Harrison Ave.). Enjoy free hot drinks and treats, watch the ski joring live stream and the Ice Cowboys film, tour the theater and shop the gift store.
5-8 p.m. – Join a Crystal Carnival Family Fair at FREIGHT with axe throwing, games, and more.
Dance at the Elks Lodge (123 W. 5th St.) with Union Gray.
Live Stream the Event
Stay tuned to Leadville Ski Joring's FaceBook page and website for further details about the live cast of the event, facebook.com/LeadvlleSkiJoring.
To learn more, visit leadvilletwinlakes.com/skijoring.
Browse all of Leadville's bars and saloons for special celebrations.
Photos by Mark LaRowe Photography
Be sure to visit our Calendar of Events Page!
Story Sponsored by Ski Cooper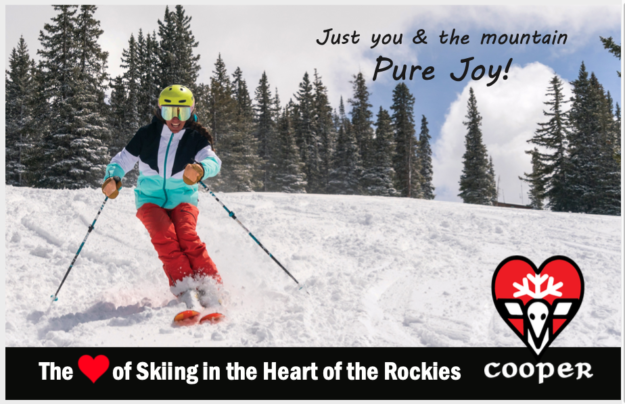 MTN Town Media Productions | Celebrating the Colorado mountain lifestyle
Copyright 2023 MTN Town Media Productions all rights reserved.