The 37th Annual Breckenridge Film Festival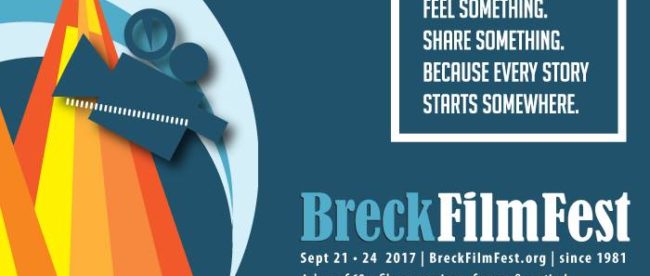 The 37th annual Breckenridge Film Festival returns to screens throughout the arts district of culturally vibrant Breckenridge, Colorado September 21-24, 2017. Showcasing over 70 films, this year's lineup includes 34 Colorado premieres, 11 international premieres and 12 U.S. premieres. Film blocks feature stories of adventure, insightful documentaries, comedic shorts, suspenseful dramas, and a highly-regarded student film presentation. Actors, directors, producers, animators, and film enthusiasts will come together starting Thursday night for four days of screenings, workshops, talk-back forums, and of course, parties. Breckenridge Film Festival's Executive Director, Janice Miller, describes Breckenridge as, "a picturesque setting for stories to be told, ideas to be shared, and bonds to be built." She adds, "where else can you ride bikes with a four-time Leadville 100 MTB champion in the morning, and learn the intricacies of animation technology from a Disney legend in the evening?"
As part of its ongoing mission to inspire, educate, and entertain, the 37th annual Breckenridge Film Festival is proud to present the following featured programming: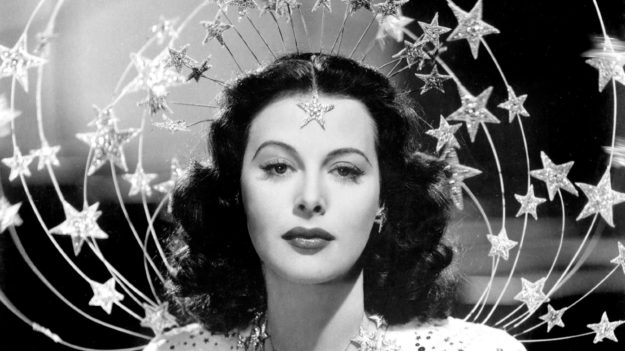 OPENING NIGHT | BOMBSHELL: THE HEDY LAMARR STORY
Thursday September 21, 7pm, $20:
Hollywood star Hedy Lamarr was known as the world's most beautiful woman. However, her arresting looks and glamorous life stood in the way of her being given the credit she deserved. Hedy Lamarr was an ingenious inventor whose pioneering work helped revolutionize modern communication. In 2016, director Alexandra Dean and producer Adam Haggiag unearthed four never-before-heard audio tapes of Hedy speaking on the record about her incredible life. Combining this newly discovered interview with intimate reflections from her children, closest friends, family and admirers, BOMBSHELL (Documentary, Dir: Alexandra Dean, USA) finally gives Hedy Lamarr the chance to tell her own story.
Breck Film Fest is honored to welcome producer and founder of Reframed Pictures, Adam Haggiag to Thursday's screening of BOMBSHELL. A graduate of NYU's Tisch School of the Arts, Haggiag has worked with Philip Noyce, Peter Jackson, Steve Spielberg and James Cameron.
– OFFICIAL SELECTION – 2017 Tribeca Film Festival

– WINNER – "BEST OF FEST" – Nantucket

– WINNER – AUDIENCE AWARD – San Francisco Jewish Fest

– Nationwide theatrical release starting November 24, 2017

RED BULL MEDIA HOUSE FILMS presents BLOOD ROAD – Saturday September 23, 6:30pm, $20:

The stoke is sure to be at an extreme high following the 2017 Breck Film Fest awards presentation on Saturday evening. The excitement will continue when special guest and four-time Leadville 100 MTB race champion, Rebecca Rusch, steps on stage to introduce her film

BLOOD ROAD

.
BLOOD ROAD (Adventure, Dir: Nicholas Schrunk, USA) follows the journey of ultra-endurance mountain bike athlete, Rebecca Rusch, and her Vietnamese riding partner, Huyen Nguyen, as they pedal 1,200 miles along the infamous Ho Chi Minh Trail through the dense jungles of Vietnam, Laos and Cambodia. Their goal: to reach the site where Rebecca's father, a U.S. Air Force pilot, was shot down in Laos more than 40 years earlier. During this poignant voyage of self-discovery, the women push their bodies to the limit while learning more about the historic 'Blood Road' and how the Vietnam War shaped their lives in different ways.
The film with be followed by a Q&A and audience discussion with Rusch moderated by longtime local journalist and News Director at Krystal 93, Phil Lindeman. BLOOD ROAD and its surrounding events are sponsored by Alpine Bank and additionally underwritten by Jim and Linda Zafarana.
MEET AND RIDE WITH REBECCA RUSCH: Saturday September 23, 10:30am – Prior to the films' screening, join Rusch and the ladies of Mountain Bike Mondays for an intermediate level trail ride beginning at Carter Park in Breckenridge. Wheels ready to roll at 10:30am. Ride is FREE, pre-registration at breckfilmfest.org is recommended but not required.
DEMO A NINER BIKE: In support of BLOOD ROAD, Niner Bikes will be in Blue River Plaza on Saturday afternoon with a full demo fleet of mountain bikes. Pick your steed and ride for free! 1-5pm, 137 S. Main Street, Breckenridge.
ADVENTURE REEL – Friday September 22, 7pm, $20: Breck Film Fest has never disappointed when it comes to a thrilling evening of adventure on the big screen. This year is no different with two films set high in the Alaskan wilderness. This block is sponsored in part by local mountaineering shop, Mountain Outfitters.
NORTH OF KNOWN (Adventure, Dir: Bryan Smith, Canada) – In terrain where bears outnumber people, roads are non-existent and flying conditions are completely unknown, Gavin McClurg and his partner Dave Turner embark on the most remote and aggressive vol-bivy paragliding expedition ever attempted by traversing the entire length of the Alaska Range unsupported.
EXPEDITION ALASKA (Student Adventure, Dir: Brian J. Leitten, USA, Colorado Premiere) – With a map and compass as their guide, endurance athletes brave more than 350 miles of Alaskan wilderness traveling by foot, bike and pack raft in a non-stop seven-day race. This competition tests the limit of teamwork and human determination.
Following the films, Breckenridge Town Council member and open space advocate, Jeffrey Bergeron, will host an audience discussion with 'Expedition Alaska' Director, Brian J. Leitten. The film was made as part of a Production Master Class at the University of Cincinnati.
DISNEYTM THEN & NOW | BEAUTY AND THE BEAST – Sunday September 24, 2pm, 5:30pm: Relive your childhood memories and witness the evolution of animation technology with a dual screening of the 1991 and 2017 versions of BEAUTY AND THE BEAST. Special guests, Aaron Blaise, former Disney animator, and Don Hahn, Disney producer on both films, will enlighten the audience with an intimate look behind the scenes of the 2017 live-action remake.
BEAUTY AND THE BEAST 1991 (Animation, Dir: Gary Trousdale & Kirk Wise, USA) 2pm – Belle is a girl who is dissatisfied with life in a small provincial French town, constantly trying to fend off the misplaced "affections" of conceited Gaston. The Beast is a prince who was placed under a spell because he could not love. A wrong turn taken by Maurice, Belle's father, causes the two to meet.
BEAUTY AND THE BEAST 2017 (Musical, Dir: Bill Condon, USA) 5:30pm – Join Aaron Blaise, former Disney animator, Don Hahn, Disney producer, and Howard Cook, Breck Film Fest Programming Committee Chair and Professor of Animation at CU Denver, as they discuss the creative and technical challenges behind bringing this film to life. See how the film's characters and environments transitioned from initial concepts to completed designs. Learn how traditional animation of the Beast, as originally drawn by Blaise, compares to the technologically augmented Beast's performance in the 2017 version. Following this presentation, enjoy the Disney classic as it takes on a new form with a widened mythology and an all-star cast.
STIGMA, SUICIDE & HOPE – Saturday September 23, 12:30pm, $12: Throughout its existence, Breck Film Fest has become a foundation for the discussion of monumental challenges. The conversation continues with a special presentation of two films addressing the stigma of suicide and youth mental health issues. Breck Film Fest is grateful for the opportunity to collaborate with local non-profit, Building Hope and Mind Springs Health. The screening of these films will shed light to a relevant subject that is marginalized in the local community. Talented filmmakers have brought these stories to life to connect with those affected and open a dialogue. Attendees will experience two artistic expressions of mental health. The goal is to allow those who feel different, isolated, depressed, or lonely to understand there is help and that access to mental healthcare saves lives http://affectivebrain.com/?attachment_id=5775.
#WILL (Short Drama, Dir: Per Sundstrom, Sweden, Western US Premiere) – A teenage boy with suspected self-harming behavior uses the school auditorium alone one weekend to record a video. After strange events and threats, he must gain control of both his mind and destiny.
– WINNER – BEST CHILDREN & YOUTH FILM: 35

TH

Uppsala International Short Film Festival

– WINNER – FOREIGN SHORT DRAMA: 22

ND

Indie Gathering International Film Festival

HOLDEN ON

(Student Drama, Dir: Tamlin Hall, USA, Colorado Premiere) – No longer your average boy-next- door, Holden Layfield weaves audiences through his harrowing tale in this film set in the early 1990s. After succumbing to a secret battle with mental illness, Holden evolves from a beloved, small town Georgia football player to a lost, self-medicating prophet. Based on a true story. Director Tamlin Hall will be in attendance with the cast and crew of the film.
– WINNER – AUDIENCE AWARD FOR FEATURE FILM: Atlanta Film Festival and Dances with Films
PANEL DISCUSSION TO FOLLOW FILM SCREENINGS: A panel discussion and reception will follow the two films. Featured speakers include 'Holden On' Director, Tamlin Hall; Building Hope Program Manager Betsy Casey; School Based Health Centers' therapist Gemma Taylor; and Chief Medical Officer of Mind Springs Health, Jules Rosen MD. The panel will be moderated by former television journalist, Debra Fox.
INTERNATIONAL HIGH SCHOOL FILM FINALISTS – Saturday September 23, 9:30am, $12: The Colorado Office of Film, Television & Media in partnership with the Thompson School District proudly present the 21 finalists of over 200 films submitted to the Centennial State Student Film Festival. High school students will accompany their work and have it critiqued by Breck Film Fest attending filmmakers over lunch. And as if that wasn't already stressful, the top three films will be announced following the screening! Film titles to be shown include; Axiom, Entropy, Journey, Puget Sound, Longhand, Façade, Eric's Story, The Mobsters, The Spaceman, You're Such a Teenager, Bellwether, Star Dance, My Favorite Shirt, Luke's Poster, Loop, Painting Light, A Question, Stone and Steel, If I Dance, Sole, and TRANSaction: stepping out of the closet.
The High School program will continue into the afternoon with two workshops. Admission is free and open to students only with limited availability. Attendees must pre-register by calling the Riverwalk Center Box Office at 970-453-3187.
–

Green Screen Possibilities

– 1:30pm: A crash course into the potential of using green screen techniques to create movie magic. This workshop will include a short lecture followed by demonstrations of how green screens are used in production and how this technology can help turn vision into reality.

–

Light It

– 2:30pm: Learn how lighting can help create specific style and atmosphere in your work. Along with a short lecture, techniques for lighting interviews and close-ups will be demonstrated. This course will show students that complex equipment is not needed to effectively set a scene and mood.
WATER: IN ALL ITS COMPLEXITIES | FILMS + FORUM – Sunday September 24, 3:00pm, $12: In collaboration with the Colorado River District and Denver Water, Genia Gallagher, author of 'Water, Water, Everywhere: The Great Western Fallacy', will introduce a block of three films touching on the complexities of water and its inevitable conflicts throughout history.
AVANYU (Documentary, Dir: Dana Romanoff, USA, Colorado Premiere) – The wild and scenic Rio Grande River is the lifeblood of New Mexico. But for Tesuque Pueblo member Louie Hena and his family, the river is more than an office, more than a provider, it is home. In celebration of the 50th Anniversary of the Wild & Scenic Rivers Act, Louie urges us all to protect more wild rivers.
MINING THE MOTHERLODE (Documentary/Experimental, Dir: H. Paul Moon, USA, Colorado Premiere) – Combining cinematic western landscapes with intimate poetry recitation, Mining the Motherlode is an agrarian dirge on wasted resources, our culture of consumption, and brokers who trade on our most precious resource, water.
WATER & POWER: A CALIFORNIA HEIST (Documentary, Dir: Marina Zenovich, USA) – In California's complex water system, a handful of corporate landowners took advantage of a state-engineered system and gained control of the state's most precious public resource, while drought left local homeowners with dry wells.
The film program will conclude with a panel discussion focusing on water in the west, its limited nature, and solutions being pursued for extending usage of this vital resource. Panel will be moderated by Genia Gallagher and feature commentary from water experts including External Affairs Director of the Colorado River District, Chris Treese; Communications Director of American Rivers, Sinjin Eberle; Summit County Commissioner and Colorado Basin Roundtable member, Karn Stiegelmeier; and Patti Wells, General Counsel of Denver Water.
Learn something. Feel something. Share something. Because every story starts somewhere.
Follow the programming themes #adventurewithfilm, #laughwithfilm, #experiencewithfilm, #inspirewithfilm, and #learnwithfilm on social media and make Breck Film Fest a highlight of festival season in the high country.
MTN Town Magazine | We are Colorado's Mountain Town Magazine
Copyright © 2017 MTN Town Magazine all rights reserved.