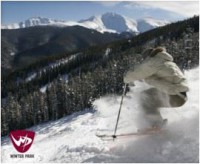 Winter Park Resort can now boast 75 years of skiing and riding,  a bunch of new additions to the resort and the same great vibe year after snowy year. Here is a great insigh to the resort from our writer Kristen Lummis, aka "Brave Ski Mom".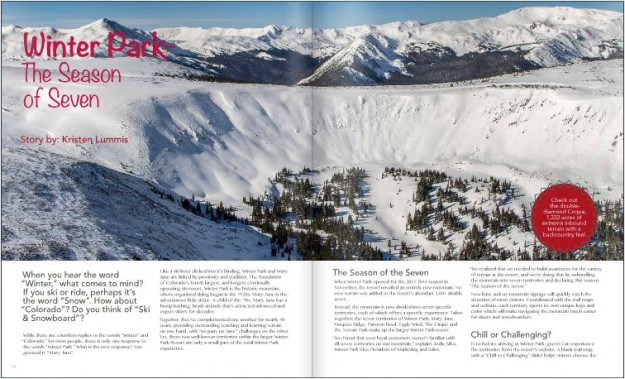 When you hear the word "winter," what comes to mind?
If you ski or ride, perhaps it's the word snow.
How about "Colorado?" Do you think of "ski"?
While there are countless replies to the words "winter" and "Colorado," for most people, there is only one response to the words "Winter Park."
You guessed it: Mary Jane.
Like a ski boot clicked into it's binding, Winter Park and Mary Jane are linked by proximity and tradition. The foundation of Colorado's fourth largest, and longest continually operating ski resort, Winter Park is the historic mountain, where organized skiing began in the 1920s. Mary Jane is the adventurous little sister.  A child of the '70s, Mary Jane has a bump bashing, brash attitude that's attracted advanced and expert skiers for decades.
Together, they've complemented one another for nearly 40 years, providing outstanding teaching and learning terrain on one hand, with "no pain, no Jane" challenges on the other.
Yet, these two well-known territories within the larger Winter Park Resort are only a small part of the total Winter Park experience.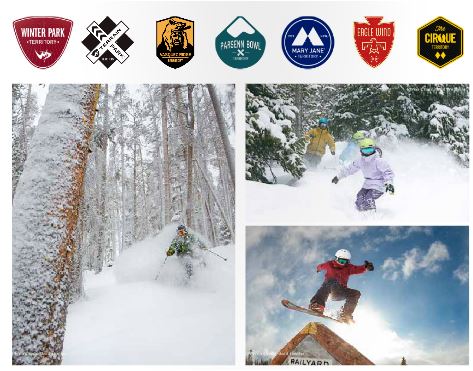 The Season of the Seven
When Winter Park opened for the 2013-2014 season in November, the resort unveiled an entirely new mountain.  No new terrain was added to the resort's abundant 3,081 skiable acres.
Instead, the mountain is now divided into seven specific territories, each of which offers a specific experience. Taken together, the seven territories of Winter Park, Mary Jane, Vasquez Ridge, Parsenn Bowl, Eagle Wind, The Cirque and the Terrain Park make up the larger Winter Park resort.
"We found that even loyal customers weren't familiar with all seven territories on our mountain," explains Jodie Silva, Winter Park Vice President of Marketing and Sales.
"We realized that we needed to build awareness for the variety of terrain at the resort, and we're doing that by unbundling the mountain into seven territories and declaring this season, The Season of the Seven."
New base and on-mountain signage will quickly catch the attention of most visitors. Coordinated with the trail maps and website, each territory sports its own unique logo and color which will make navigating the mountain much easier for skiers and snowboarders.
Chill or Challenging? 
Even before arriving at Winter Park, guests can experience the territories from the resort's website. A blank trail map, with a "Chill to Challenging" slider helps visitors choose the best territory for their style, while providing statistics and a list of "7 Must Do Experiences" within each area.
Slide the bar all the way to "challenging" and the resort recommends you check out the double-diamond Cirque, 1,332 acres extreme inbounds terrain with a backcountry feel.
Back off just a little, and the website highlights Eagle Wind, home of much of the resort's tree and glade skiing. Move the slider just a bit more toward "chill" and you'll find Mary Jane.
Given Mary Jane's expert reputation, it's a bit surprising to find this territory, which has a combination of intermediate and advanced runs, nearly half way between "challenging" and "chill."
Dead in the middle, guests will find the resort's terrain park, with progressive features for every level.
Heading further toward "chill," the territories include Parsenn Bowl, an intermediate- alpine bowl served by North America's highest six pack; Vasquez Ridge, a haven for powder hounds seeking secret stashes of powder; and Winter Park territory, with runs to challenge everyone from beginner to advanced and the base camp for the resort's ski and ride school.
Season Long Specials and Excitement
In addition to new signage and mapping, The Season of the Seven will carry over into every aspect of on-mountain operation from food and beverage to the ski and ride school.
On-mountain restaurants will have new themed menus, featuring dishes specific to each territory. The ski and ride school will promote territory specific lessons and clinics. Kids taking lessons will earn helmet stickers for each territory they ski or ride. And, there will be gear: everything from pint glasses that you can collect, to exclusive clothing and headgear featuring the seven new logos.
Other changes to look for include a monthly Season of the Seven lodging deal, available on the Winter Park Resort website, and the Cirque Sled which for $10 will drive you to the Cirque terrain for the entire season, thus eliminating the hike.
According to Jodie Silva, the Season of the Seven is really about a total revamp of the guest experience.
"There's no start and stop to the Season of the Seven concept," she explains. "Instead, we are focused on delivering a 360-degree experience for our visitors. The territories are not just about the terrain, but about enhancing the guest experience within each geographic area."
Bring 'Em On, Bring 'Em Back
Winter Park Resort makes no secret that a goal of this season's rebranding is to entice new skiers and lure former skiers back to the resort.
While Winter Park Resort is easy to access from DIA or by Amtrak, making it very attractive to out-of-state skiers, local Coloradans often lock into their season passes early and rarely venture to other resorts. This means some Colorado skiers and riders may not have visited Winter Park in years and have no idea of how it has changed.
Three years ago, my husband and I visited Winter Park Resort for the first time in twenty years. We live on the Western Slope and it's a long drive. After three days skiing and exploring the mountain, we were blown away.
We hiked to ski the Cirque. We cruised through Parsenn Bowl. We wound our way through the trees at Eagle Wind and skied bumps on Mary Jane until our legs could handle no more. We found steep runs on the Winter Park side, abundant with moguls, that we had no idea existed. My husband even took two runs in the gates during a fundraiser for the National Sports Center for the Disabled.
Enjoying dinner one evening in the new-to-us Village, we realized that we didn't know Winter Park and Mary Jane at all. The resort was so much more than we remembered. So we came back the next year with our kids and had a terrific time.
With so many territories to choose from, and so much terrain to experience, The Season of the Seven is endlessly enticing. Pick a day, pick a territory, and go to Winter Park Resort.
And then, when you're enjoying a close-of-the-day beer in a Season of the Seven glass, say to yourself the words "Winter Park," and see what comes to mind.
It might just not be Mary Jane.
~Kristen Lummis for MTN Town Magazine
Photo Credits: Winter Park Resort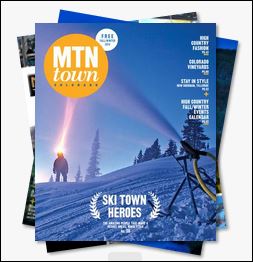 MTN Town Magazine Copyright © 2015 | MTN Town Magazine all rights reserved. All editorial and images are property of MTN Town Magazine and require permission for use and re-publication.