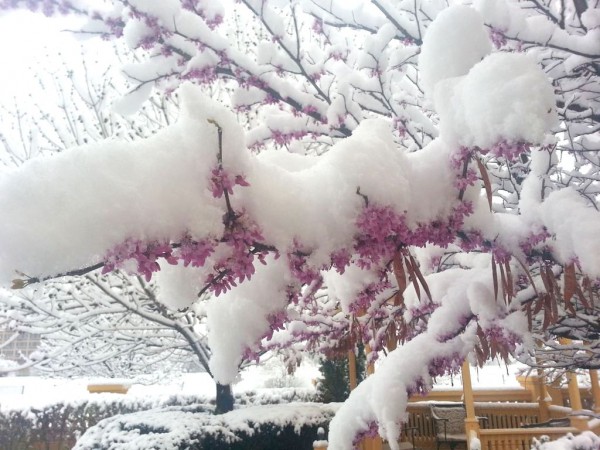 Sometimes I feel cursed. What evil has fallen upon you, you say? Well like pigpen I often feel a cloud follows me, but it is not filled with dust and dirt. No, a big white cloud  sits above my head and it is filled with snow. Snow drifting and falling and… no it is not dandruff! Normally snow makes me happy but when you have not had a vacation for close to a year and all you find is snow and cold on your journey well you become a little disgruntled.
We left Summit County, destination: Lake Powell, with a layover in beautiful, flowering Grand Junction. We arrived to some rain and chilly temperatures but the next day it was expected to clear. We stayed at the La Quinta on Horizon Drive. They have such a lovely pool area with flowering trees. I was looking forward to a coffee under those sweet blossoms. Time to relax and unwind.
A restful sleep with no alarms or kids to rustle from their covers I awoke ready to stretch and get that coffee. I peeked through the curtains and was blinded by white. White trees, roads, sidewalks, cars, everything was white. I pinched myself. This was a bad dream, no it's not, that is snow. Several three lettered acronyms went through my head.  Sigh. A delightful spring break plan disrupted.
If you can't beat it well then join it. I am used to the cold and for me it was just another day of snow. 23 years of living at altitude it becomes a part of your life, even if you do not want to accept it. So off I went, grabbed that coffee and a camera, because honestly snow is pretty and when it envelopes a blossoming crabapple tree it is even prettier. The whole garden was really kind of magical.
The best part about snow is:
You don't need an umbrella when you walk outside.
It IS pretty
It hides all the dog poop in the yard.
It melts and fills reservoirs rivers and streams.
The grass is always greener after it melts off.
You know where your dog went to when he runs away.
An instant morning workout occurs because it has to be shoveled.
You can ski, ride and glide on it. 
You can just watch it fall.
It quiets the world.
Don't despair, the sun will come and it will be gone before you know it.
~MTN Town Magazine
MtnTownViews.com is MTN Town Magazine's daily journal blogging about Colorado's mountain towns and resorts. Like them on Facebook and Follow on Twitter. Click the cover to read the Winter 2012-13 Issue.
© 2013 MTN Town Magazine. All rights reserved. Republication, in part or entirety, requires permission.