Vail Automotive Classic Wheels & Wings Fest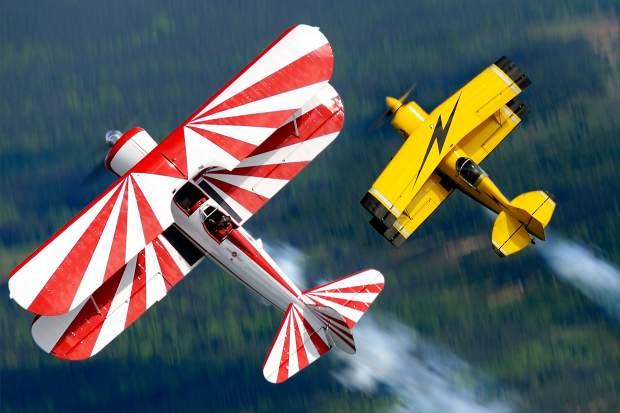 The Vail Automotive Classic Wheels & Wings Fest is rolling into town this weekend. The Festival is slated for 9 a.m. to 3 p.m. Saturday at the Vail Valley Jet Center in Gypsum. The festival takes place at the Vail Valley Jet Center in Gypsum from 9 a.m. to 3 p.m. Saturday. More than 200 cars and airplanes will be on display and two aerobatics shows will take place, the first at 10 a.m. and the second at 1 p.m. But back to the auction: Denver auctioneer O.J. Pratt, who is with Pacific Auction Company, is bringing 65 cars to the event. That's triple the number of cars auctioned off at last year's event. There are six non-reserve cars this year.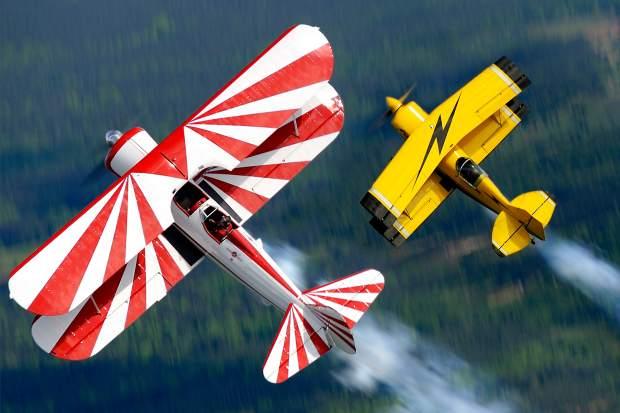 While the aerobatics show and the slew of cars on display at the annual Wheels & Wings Festival draws plenty of grins and oohs and aahs, the auto auction component of this year's event is expected to draw a bigger crowd this year.
"There's no minimum price on those six at this point, which means if something goes up on the block, who knows — you could end up with it really cheap," said event coordinator Taylor Slaugh.
Cars with no minimum bid requirement include a 1971 Corvette; a 1952 Ford Tudor; a 2013 Harley Tri Glide with only three miles on it; a red 1927 Graham Brothers Pickup; and a restored 1969 Volkswagen Bug that was a "barn find," Slaugh said.
Highlights from the auction include a rare French car — a blue 1958 Facel Vega FV4 Typhoon CP with 100 miles on the odometer. According to the online auction listing, only 540 of these automobiles were built during the 10 years they were made.
"Many movie stars and famous folks owned these cars," Slaugh said.
There's also a beautiful red 1972 Dino Ferrari with 45,000 miles on it and six 1950s and '60s Cadillac Biarritz convertibles. A jet is even being auctioned off — a 1978 Hawker 700 — though it won't be onsite for the auction.
Start the bidding
All of the auction items are available to preview and even start bidding online via a link on the Auto Auction page at www.vailautomotiveclassic.com. If cars or airplanes aren't your thing, there are a handful of other items that might be: antique gumball machines, a vintage school pencil dispenser, a 1940s porcelain Coca-Cola sign and even a penny slot machine from 1934.
"It opens the whole idea of an auction to people who might not think they'd want to participate," Slaugh said, regarding the non-car/plane auction items.
A portion of the proceeds from the auction will be donated to Jack's Place at the Shaw Regional Cancer Center in Edwards and Eagle Valley Senior Life. Last year the Vail Automotive Classic board of directors donated $25,000 to Jack's Place and $6,000 to Eagle Valley Senior Life as a result of certain auction items and proceeds from the event.
Family fun
In the kid's hangar, families will find two NASCAR simulators, super popular at last year's event. There's also a traveling exhibit from the Wings Over the Rockies Air & Space Museum in Denver. The Eagle Bible Church is setting up a tricycle racecourse with Razor tricycles. Buy a raffle ticket for a chance to win one of the Razors.
There are options for big kids who would rather see the festival from above. For an extra cost ($50 and up) attendees can score rides in a Eurocopter or a seat aboard a few airplanes, including a Piper Archer, a Piper J-3 Cub or a Beechcraft T-6 Texan. Fourteen warbirds will be at the event with some doing fly overs as part of the air shows and other will be available to see on the ground. You might even get a chance to end up on television. Dennis Gage from My Classic Car will be on site filming at the event.
On Sunday, see the winners of Saturday's judged car show, along with a few special invite-only vehicles, on display in Vail at the Vail Village Car Show, taking place from 9 a.m. to 1 p.m.
For more event details, visit www.vailautomotiveclassic.com.
If you go …
What: Vail Automotive Classic Series of events.
Where: Vail Valley Jet Center on Sept. 12 and Vail Village on Sept. 13.
When: Sept. 11-13. Wheels & Wings Festival takes place from 9 a.m. to 3 p.m. Sept. 12. The Vail Village Car Show is from 9 a.m. to 1 p.m. Sept. 13.
Cost: Advance tickets for The Wings & Wheels Festival on Sept. 12 at $20 for adults, $5 for children age 6-15 and free for kids under 5; family packs (two adult, three children tickets) are $45 and only available online. Live Local Lounge VIP tickets are $85 and include all-day catered food, drinks, shade and prime viewing for the aerobatic shows. Day of ticket prices will cost/increase $5-$15. The Vail Village Car Show on Sept. 13 is free.
More information: Visit www.vailautomotiveclassic.com.
Caramie Schnell is a freelance writer contracted by the Vail Automotive Classic.