Three Weeks until the USA Pro Cycling Challenge – Stage 1 Salida to Crested Butte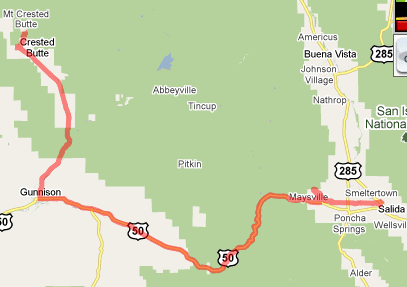 21 days until the Prologue in Colorado Springs lets the USA Pro Cycle Challenge racers loose for a highspeed sprint to the finish! At 1:15pm on August 22nd Colorado Springs will see the start of the USA Pro Cycle Challenge. Racers will start within the Garden of the Gods park and head top speed through Colorado Springs to determine who will be positioned for the start  of Stage 1.  
Beginning at 11:45am MST, riders will begin their first day of road racing at an elevation of 7241.68 in the lovely little town of Salida and compete for the finish in Crested Butte 99.6 miles away. Cyclists will get to compete for their first King of the Mountain points.  Positioned on Monarch Pass, the King of the Mountain honor goes to the first few cyclists to reach the top of their first mountain climb, one reaching 11,315 feet in elevation.  This first climb forces the riders to gain 3250 feet in elevation over 13 miles, and gives them a lung busting taste of Colorado's high altitude climate. 
After this challenge, the cyclists will have two sprint lines to compete for – one in Gunnison and one near the finish line in Crested Butte.  At the sprint line, riders must ride as fast as they can to reach the line to gain points.  But with a sprint line so close to the finish, competitors will have to decide which line to expend their energy racing for. Both will be impossible in a finish like this one.  In this unique finish equation, the competitors in Stage 1 will close out the day on an uphill climb, from the lower area of Crested Butte to the finish line on Mt. Crested Butte – the USA Pro Cycling Challenge's only mountain top finish. The estimated finish time is between 3:15 and 4;15pm MST. Once again you can observe the route from start to finish from your arm-chair. Click here and then click the Video tab at the top of the map – too cool!
Salida is a well-known town with a passion for its boating and biking. This fabulous little town has grown up over the years and boasts some great eateries, art galleries and shopping in addition to its trails and the Arkansas River flowing through it. Festivals galore should be in full swing the day before and long after the last biker exits the town limits. Here are a few good eateries to check out: The Boathouse Cantina, Little Cambodia Restaurant and Amica's Pizza & Microbrewery. The shopping is pretty darn good too. Be sure to check out some of these links http://www.salidachamber.org/  http://coloradoheadwaters.com/
Gunnison and Crested Butte are two amazing little towns filled with rich mining and ranching histories and is a mecca for mountain bike and outdoor enthusiasts! In Gunnison come early to watch the whole stage on the Jumbotron set up in downtown Gunnison's IOOF Park at Main Street and Virginia Avenue beginning at 11 a.m.  The live action is expected to roar through Gunnison midday sometime between 1:45 – 2:45 p.m.  There will be live music, activities for the whole family and a beer garden at this Pass-Through Day Expo until 4 p.m. 
In Crested Butte, the fun begins at noon at the sprint line in downtown Crested Butte with a townie criterium, closely followed by a U.S. Handcycling Federation handcycling criterium hosted in conjunction with the local Adaptive Sports Center at 1 p.m.  A beer garden and live coverage will be available for spectator enjoyment at these events.
In Mt. Crested Butte, the finish line will come alive with the Finish Festival including live music and a "Taste of the Town" planned from 11 a.m. – 6 p.m., plus watch race action on a Jumbotron. A Strider Cup race for kids under the actual finish line launches at 1:30 p.m. The first riders are expected to arrive in Crested Butte just before 3 p.m., and the first finisher is expected in Mt. Crested Butte between 3:15 and 3:45 p.m.
So find your position, Salida, Gunnison or Crested Butte or anywhere along the way and get ready to cheer on our racers and our state! Colorado, I wouldn't want to be anywhere else!
~Summit Sojourner
© 2011, Summit Sojourner. All rights reserved. Republication, in part or entirety, requires a link back to this original post.