The Aspen Way on International Peace Day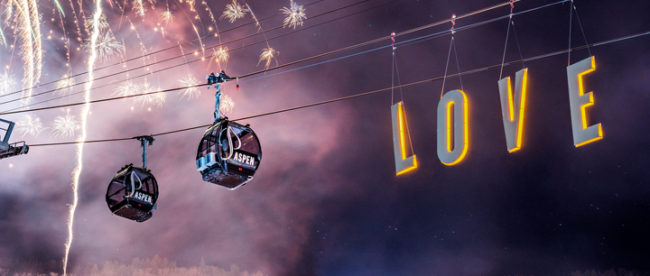 Today is International Peace Day and we felt the new Aspen Snowmass video series, The Aspen Way, would be an appropriate post. Aspen Snowmass chose four words that represent the resort's values—love, unity, commit and respect. These words were built as art installations and placed across their four mountains last winter.
Aspen Snowmass chose these four words because they represent the company's core values as well as characterize who Aspen Snowmass is as a company. The four words were written large and placed on the four mountains of Aspen Snowmass—Aspen Mountain, Aspen Highlands, Buttermilk and Snowmass. In all cases, they represent the intersection of values and art in iconic locations across the company's peaks.
Watch this great video: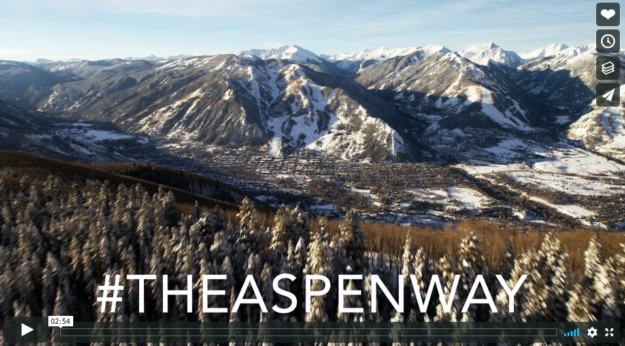 This season, the words will once again be placed on Aspen Snowmass' mountains for guests to interact with as well as dive deeper into The Aspen Way conversation. They are defined as:
Love: the unconditional act of sharing your heart with the person you choose. Free from judgment or prejudice.
No one chooses love. It finds you. That's the magic. Aspen fell for Gay Ski Week in the 1970s. Only regret is not finding each other sooner. Only question now is how do we open our hearts even bigger. Not just to people, but to the whole world around us. Love—it's The Aspen Way.
Unity: overcoming differences and welcoming diversity. Working together to achieve more than we ever could alone.
The mountains don't discriminate. Neither do we. Neither should anyone. Ethnicity, religion, race, gender-identity. We're better together. On the mountain, at work, as a nation, as members of the human race. Unity—it's The Aspen Way.
Commit: boldly taking action in support of your beliefs. Not sitting idly by, but doing something to make a difference.
That knot in your stomach? A sign you're about to do something uncomfortable, risky even. Could be dropping into the halfpipe or riding a chairlift for the first time. Could be heading to a street protest or speaking up when it's not easy. Bottom line: it's always worth it. Commit—it's The Aspen Way.
Respect: working hard to leave the world a better place than you found it.
Sometimes respect isn't passive, and means more than leaving things be. Sometimes it means sticking up for something. Like the environment, so the next generation can ski or ride. Or the value of science and the certainty of facts. Or even respect for each other. Respect—it's The Aspen Way.
The campaign was designed around the core values of Aspen Skiing Company and designed to give a public venue to amplify the core tenants of the business.
"Aspen Snowmass, as a destination, and Aspen Skiing Company, as a place of business with nearly 4,000 employees, has always been and will always remain dedicated to tolerance, open-mindedness, environmental sustainability and civility. We take our values and role as a corporate citizen seriously and will remain resolute in our commitment to ensuring a stable climate and tolerant, civil society," says Mike Kaplan, President and CEO, Aspen Skiing Company.
Love . Unity . Respect . Commit
Karsh Hagen was the lead agency on the concept and Public Works produced the physical word installations. Local film producer, Danny Brown was the principle videographer for the videos, and many Aspen Skiing Company employees were directly involved in the execution of the campaign.
Peace Everyone
MTN Town Magazine | We are Colorado's Mountain Town Magazine
Copyright © 2017 MTN Town Magazine all rights reserved.