The 2013 Telluride Blues and Brews Bible – Telluride.com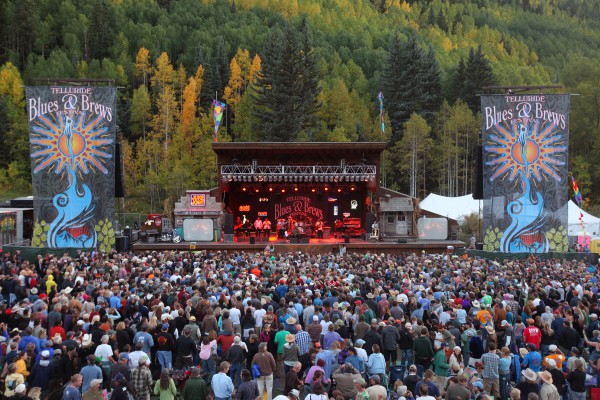 This is it! THE Bible…The Telluride Blues and Brews Bible that is and I suggest reading every word so you get the full experience while you are in Telluride enjoying the festival. Hart Roberts and the crew at Telluride.com put this together and they know their stuff after attending years of shows!
The Telluride Blues & Brews Bible – Telluride.com
Get ready for one of the best weekends of the year in one of the most scenic and intimate venues in the country? The 20th Annual Telluride Blues & Brews Festival will take place in town this weekend featuring The Black Crowes, Jim James, Melissa Etheridge, Gary Clark Jr., and many, many more! We've created the "Blues & Brews Bible" – a complete guide on what to do, what to bring, who to see, where to eat/drink/party and more info to help you have an epic weekend.
Haven't been to Telluride? The town was founded in 1858 after gold and silver were discovered, Butch Cassidy robbed his first bank here, Nikola Tesla selected the site to build the world's first power plant, hippies re-settled these lands in the 60's, skiing arrived in the 70's, real estate agents invaded in the 80's, Tom Cruise, Oprah and Oliver Stone call it vacation, Tim McGraw even wrote a song about it, and this week… our tiny mountain town kicks off one of the most-anticipated festival lineups in the nation.
Start your engines! (And drink lots of water)
What to Do: A lot of your time will be spent in Telluride's beautiful Town Park (not a bad thing), BUT make sure you get outside and explore everything Telluride has to offer. Here's a list of free events, hikes and other must-do's to check out around town this week:
What to Bring: Make sure you pack for all four seasons; you never know what the weather will be like here in the San Juan Mountains. Remember when it snowed, rained and turned sunny all in one day a couple years back? Pack a rain jacket, hiking boots, a sun hat, and anything else you might need for highs of 60 degrees during the day and dropping into the low 40's at night. Don't forget a backpack to hold clothes/jackets, your camera for amazing shots, and a water bottle to refill while in Town Park. Here are a few more helpful festival FAQ's.
Pack a rain jacket, a pair of sandals/Chacos, hiking boots, sunscreen and a festival hat along with your other normal festival fall-in-Colorado wardrobe. It's been getting down in the 40's at night and into the upper 60's during the day. We usually take a change of clothes into the CLICK HERE TO KEEP READING I highly suggest it!
See you in Telluride!
~MTN Town Magazine