Steamboat Resort is Primed for 50 Years of Snowsports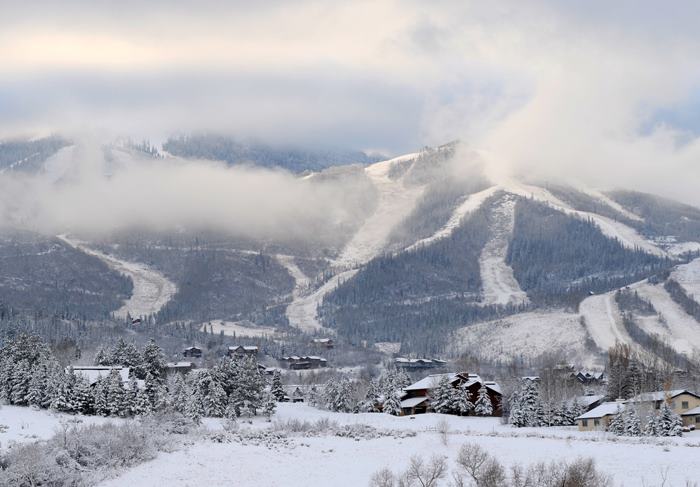 14″ in Steamboat! Sweet storm! Everyone in the area is excited as now it feels real – winter is on it's way. The fresh snow and temperatures primed the resort's winter base and helped kick off the start of snow-making at the Steamboat Ski Area at 2:30pm today, Friday, October 26, 2012.
"It's always exciting when snow covers the mountain especially this early in the season and we crank up our snow guns for the first time," said Doug Allen, vice president of mountain operations for the Steamboat Ski & Resort Corporation. "It's a sure sign that another season in Ski Town, U.S.A.® is right around the corner."
Snowmaking crews turned on the high efficiency, low energy tower guns and air/water guns from the resort's fleet on several trails to begin snowmaking efforts in anticipation of Steamboat's Opening Day, Wednesday, November 21st. Cold temperatures and moisture in the air created the perfect weather combination for crews to begin building the resort's base, starting with Heavenly Daze and working down the mountain towards the base area in their initial snowmaking foray. Future snowmaking efforts will continue as weather permits.
"The early season snow product has been significantly improved due to ongoing snowmaking improvements, technological advancement and additional hardware," continued Allen. "With this technology, crews take advantage of shorter cold weather windows; cover more of the trail; and treat guests to a drastically better early season skiing and riding product in the process."
The resort's system covers nearly 360 acres of top-to-bottom terrain (3,668 vertical feet) and includes a network of over 600 available hydrants, 4 pump houses across the mountain, 150 high-efficiency guns and a state-of-the-art digital operating system. Through comprehensive snowmaking upgrades and efficiencies, the resort has seen a 40% improvement in its gallons per kilowatt ratio. These improvements are all designed to further efforts to use less electrical energy and water while being more efficient in producing the early season snow base.
"This first major snow system moved in from the northwest, which is an ideal jet stream pattern for Steamboat," commented Allen. "If storms continue on this pattern Steamboat should see consistent snowfall during the early season and get off to a great start for its 50th Anniversary Season."
The resort is scheduled to open Wednesday, November 21, 2012 with Scholarship Day, the traditional opening day benefit, with proceeds from specially-priced tickets donated to the Steamboat Springs Winter Sports Club's Scholarship Fund. The fund provides financial support for deserving children participating in Club programs.
To stay up-to-date on Steamboat's snow conditions as the resort heads towards its 50th Anniversary Season by visiting www.steamboat.com to view Mountain Cams, Featured Photos, Videos and register to receive the Straight Talk Mountain Report and other resort e-newsletters.
~MTN Town Magazine
Photo Credits: Steamboat Resort
MtnTownViews.com is MTN Town Magazine's daily journal blogging about Colorado's mountain towns. Like them on Facebook and Follow on Twitter.
© 2012, MTN Town Magazine. All rights reserved. Republication, in part or entirety, requires permission.