Steamboat Bike Park Debuts Sneak Peak of New Downhill Trails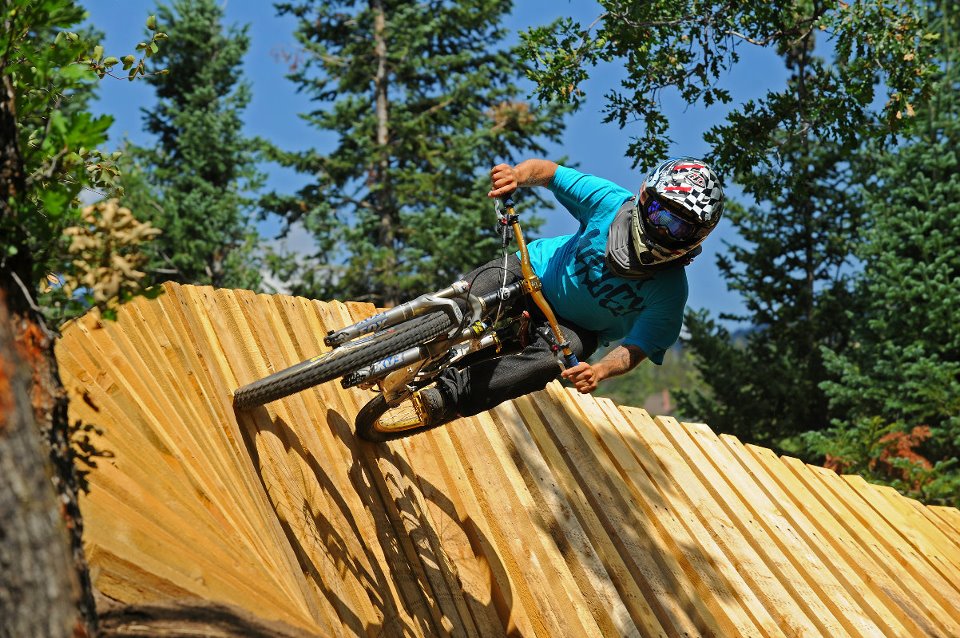 A new era in mountain biking debuted at Steamboat Ski Resort this weekend when the resort offered a sneak preview of the much anticipated Steamboat Bike Park and three of its new downhill mountain bike trails.
[youtube=http://www.youtube.com/watch?v=RfKqVqFT3Ew&feature=player_detailpage]
"Opening these trails early was a highly anticipated milestone in the process of developing the new Steamboat Bike Park," said Jim Schneider, vice president of skier services for the Steamboat Ski & Resort Corporation. "Two years ago, we began a downhill revolution and with wide support from the community, National Forest Service and trail developers, we are ecstatic to unveil a glimpse of what will be the future of downhill biking in Steamboat."
The preview of the Steamboat Bike Park began with two downhill green trails, E-Z Rider and Wrangler Gulch; and the expert black jump trail, Buckin' Bronc. These gravity trails will showcase the dedicated work of legendary mountain bike trail developers, Gravity Logic, along with the Steamboat trail crew, who spent endless hours building and preparing the trails for their early fall premiere.
Buckin' Bronc, the expert jump trail, contains step down rollers, wooden berm/wall ride, large dirt berm, ten-foot wooden ladder step down, step up, rollers and a line of nine table-top dirt jumps in rapid succession.  The green trails feature dirt berms, banked turns and wooden slat and ladder bridges.
"This is something totally new and different, especially the jump trail, from what folks have seen or experienced at Steamboat," continued Schneider.  "This is just the beginning. We have a lot of work ahead, but as riders will see, the new park and trails will open an entirely new way to enjoy the mountain. Have fun, be safe and be respectful."
The Steamboat Bike Park is officially set to open during the summer of 2012 and work is currently underway on three new trails for next year. The trails in the Steamboat Bike Park will open and close as conditions, maintenance and bike patrol crews determine on a daily basis similar to terrain parks in the winter. Riders must stay off closed trails. Steamboat's bike patrol will only be available when mountain bike trails are open. The new Steamboat Bike Park falls under the resort's SlopeWise Code and carries the same principles and consequences as in the winter.
A bike ticket or bike season pass is required to use the three new downhill/jump trails as well as future trails in the Steamboat Bike Park. The resort is offering a special $25 Fall Bike Pass for access to the new trails valid over the next four weekends in September. A daily lift ticket is needed in addition to the bike pass to utilize the 8-passenger Gondola. Current bike season passes are valid during the fall preview
With the initial launch of the Steamboat Bike Park, 26 high-performance Kona Freeride full-suspension downhill bikes have been added to the rental fleet, to ensure a smooth ride down the new mountain experience. The resort also rents full face helmets and body armor protection (goggles, elbow/forearm guards and knee/shin guards) for the technical trails at the summer ticket office located in One Steamboat Place.
In addition to the new downhill trails, Steamboat offers over 50 miles of mountain biking and hiking trails. Guests can take advantage of private and semi private bike clinics, and a complete rental fleet of full-suspension and front suspension bikes.
Make plans to take advantage of great fall packages to test out Steamboat's new downhill biking as well as the current mountain biking and hiking trails. The leaves are set to turn to gold, what a  great way to see them. Checkout Steamboats website for more specials today and as the winter season closes in on us.
~Summit Sojourner
Photo Credit: Larry Pierce/SSRC
Video Credit: Michael Bye/SSRC
© 2011,
Summit Sojourner
. All rights reserved. Republication in part or entirety, requires permission of Summit Sojourner, LLC.