Slice O'Life Bakery, Palisade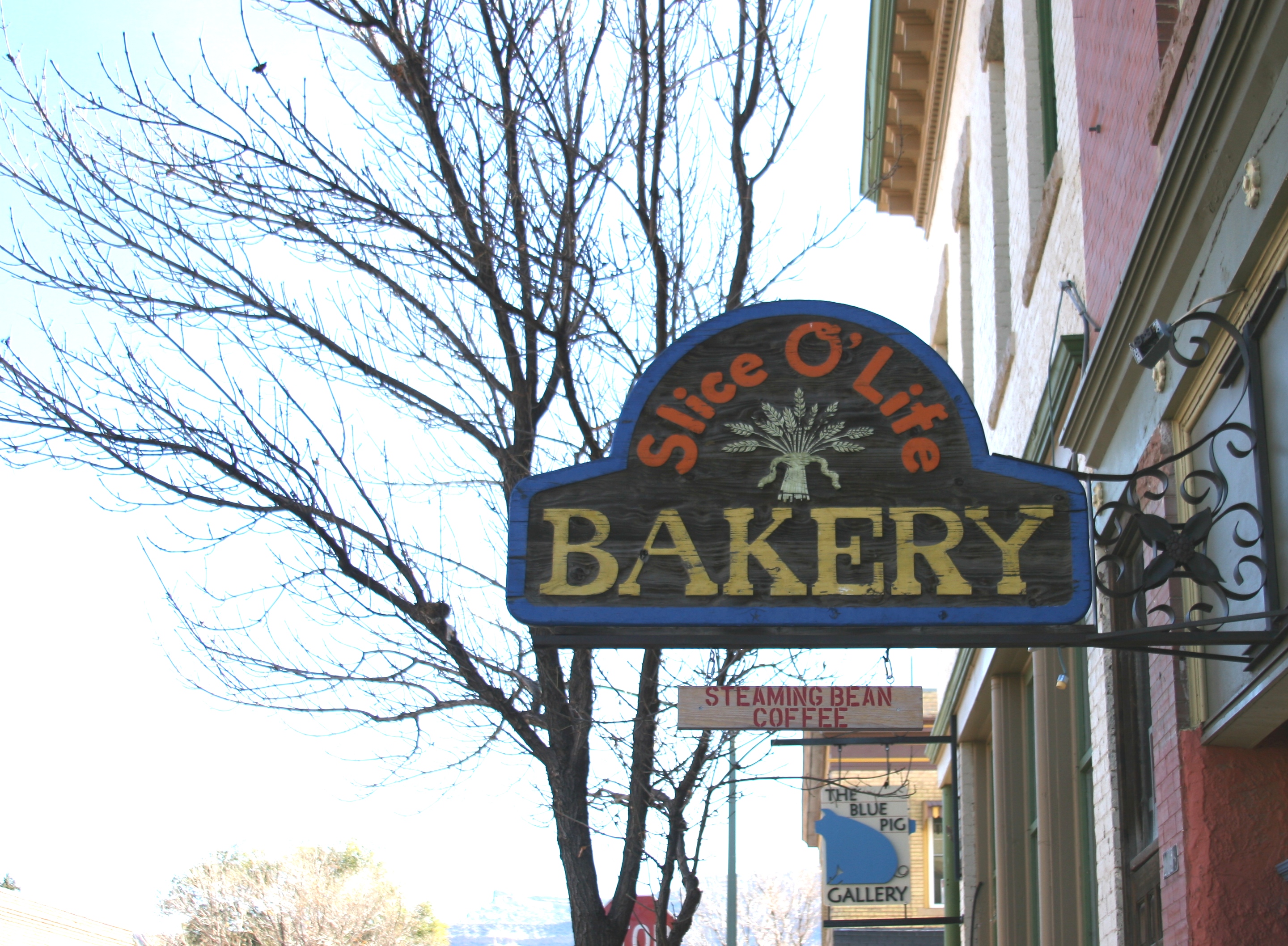 I am thinking warm and yummy. I am thinking about that smell of bread baking and pies in the oven. Memories of days behind and good food from simple places. We get all wowed up when we run into a new establishment that has been designed by a pro and has beautiful high end finishes. I am starting to realize though that some of the best food comes from those simple places where the signage and pricing is hand written, the display case is from days of old and the equipment is weathered but clean and sturdy.
I happened to discover one of those places.  It was very early on a Monday morning and not a lot was open when I pulled into Palisade (Colorado). I was looking for a coffee shop and saw nothing at first, but there, right off the corner of W 3rd and Main Street I saw a sidewalk sign: Homemade Bread, Pastries, Sandwiches, Drinks, Ice Cream Sandwiches… no coffee… oh wait the sign hanging above the door: Slice O'Life Bakery and a smaller one…Steaming Bean Coffee – Jackpot! The Cup O'Joe I needed. I was not interested in the Pastries until I walked in.
This place was the real deal! No mass produced, pre-packaged, dried out, baked somewhere else fodder. Fresh baked treats, breads, bagels, pies, cakes, Bavarian cremes, bread pudding, danish, kuchen, turnovers, cookies and this was just some of there offerings. MMMMMMmmmmmmmmmmmmm. I am not a sweet treat girl but this was the end of the rainbow and I was digging in.
We went for  Bread Puddings, Berry Turnovers and a Baked Apple along with fresh brewed Java. I could have eaten a lot more but as a woman this girlish figure is always closely guarded. As I was grabbing some to take home, I love those little white pastry boxes, one of the bakers appeared with the cutest spiders I have ever seen! Brioche spiders complete with coconut hair and dried cherry eyes. Piping hot from the oven! Yes please, add that to my order.
Mary Lincoln who owns Slice O"Life Bakery has been baking  in this location since 1980. She is taking orders for the holidays and even makes wedding cakes. I bet her pumpkin pie rocks! Here is the 411:
105 W 3rd, Palisade  
(970) 464-0577 here is a link to their Facebook page: Slice O' Life Bakery
~MTN Town Magazine
Photo Credits: MTN Town Magazine

MtnTownViews.com is MTN Town Magazine's daily journal blogging about Colorado's mountain towns. Like them on Facebook and Follow on Twitter.
© 2012, MTN Town Magazine. All rights reserved. Republication, in part or entirety, requires permission.