Sled Dogs – An Interview with Roux the Sled Dog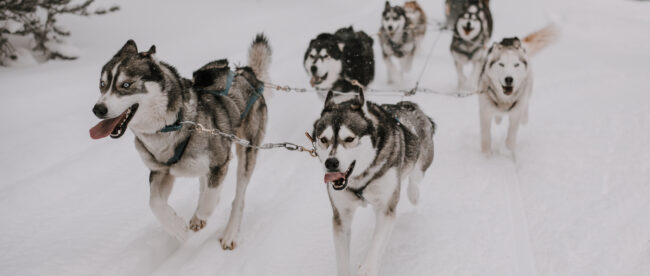 Sled Dogs are on the go and Roux, a Siberian Husky at Good Times, (top left) says he is living his best life
by Shauna Farnell
photos by & Two Were Tamed, Micah Mathis
One of the 146 sled dogs at Good Times Adventures, Roux is a 6-year-old Siberian Husky who spends his days leading tours through the Swan River Valley outside of Breckenridge. His humans describe him as  "the brains of the operation," so we sat down to find out more about life as a sled dog. 
How does a canine such as yourself get involved in this line of work?
Roux: I was quite literally born into this job. My parents were carefully selected to add a litter of puppies to the Good Times kennel and my brother, sister, and I were born. My humans like to name litters in themes and one of them is from New Orleans, so we are Roux, Gumbo, and Voodoo.
What does your training involve?
Roux: As a puppy, I spent most of my time wrestling with my siblings, going for walks with my humans and meeting people of all ages, so I would be well-socialized. When I turned one, I started learning from one of the older dogs at the kennel. Now I'm the one training the next generation. Not to brag, but I'm super smart, so my position is always in the front of the team. When my mushers say "hike," it means go. "Gee" means turn right and "haw" means turn left. One of my favorite running buddies is a girl named Kyote. We are like clockwork when it comes to following commands together.
Describe a typical day at Good Times.
Roux: My day begins with a good stretch. Then, my neighbors and I like to launch into a long morning howl. Then, my mushers pick out which team I get to lead and put my harness on. I usually try to get them to rub my belly while they are putting my harness on … it almost always works. Typically, I'll lead two tours a day, clocking 12 to 15 miles. It sounds like a lot, but it's actually pretty easy for me.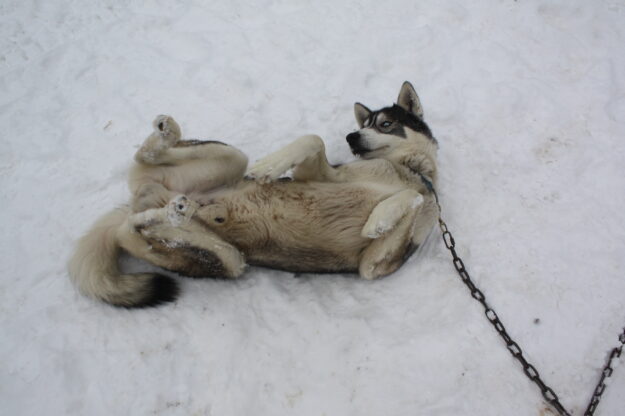 What do you enjoy most about your job?
Roux: Running is my favorite thing in the world. I also love my humans. They take great care of me. My second favorite thing is belly rubs, especially from kids. One of my greatest challenges is to stop giving kisses to the guests I take out on the trail. I love the attention and it's easy to get sucked in.
Where do you sleep? 
Roux: I've got a pretty sweet pad – my own, outdoor doghouse. As Siberian Huskies, my teammates and I are comfortable sleeping outside and my caretakers give me a big straw bed during the winter. To be honest, my favorite spot is usually outside the house in the snow. The snowier the better for me.
Are you on a special diet? 
Roux: As a professional athlete, my dog food is high in fat and protein in order to give me the fuel I need to perform at my best. After every run, my mushers give me a big bowl of meat soup. It makes me drool just thinking about it. We're pretty spoiled here at Good Times. The Hearthstone Restaurant donates all of its butcher trimmings to us. The lamb is my favorite, but the salmon is pretty awesome, too. Sometimes I try to steal Kyote's soup when she's not looking. Shhh … don't tell her.
How do you spend your summers?
Roux: During the summer months, I love going for runs with my humans. Instead of dog sleds, my team takes tours around the area leading golf carts. The best part is sometimes taking a dip in a nice, cool creek. When we aren't running in the summer, we get a ton of love from our guests. Personally, I love belly rubs. Have I mentioned that already?
What are your dreams of retirement?
Roux: Being a full-time sled dog has its perks, including a full-blown retirement plan. When we start to slow down and can't quite keep up with the younger dogs any more, we move to the Retirement Village section of the kennel. Here, we have tons of room to run around and play with other retired dogs, plus, we get to join the exclusive "old dogs" team. I see them go out every week, and it looks really fun. The ultimate retirement plan for any of us, though, is to be adopted by a nice family. I'm still a few years away from retirement, but when I think about who I'd like to adopt me someday, I always picture a family with a big backyard, lots of spare treats laying around, and a few kids … that way I always have someone to rub my belly.
For More Information on Breckenridge head to www.mountaintownbreckenridge.com
MTN Town Media Productions | Celebrating the Colorado mountain lifestyle
Copyright 2022 MTN Town Media Productions all rights reserved.
Post Sponsored by