#RideAnotherDay: From a Family Tragedy to a National Snowsports Safety Campaign
Chauncy Johnson doesn't mean to be a buzzkill. He never wanted to scare anyone, bum anyone out or put a damper on their ski day.
But this Wyoming father has a story to tell.
A lifelong skier, and father of five, who "loves the sport," Johnson and his wife, Kelli, were skiing with their children on Christmas Eve in 2010, when Kelli and their oldest child, Elise, were involved in a serious accident.
"I remember going up the chairlift with her, and we were discussing which run we wanted to go on," Kelli Johnson shared with Colorado Public Radio in January 2017. "I remember starting out that run with her…she actually was doing so well that I was actually having her follow me."
From this point on, Kelli's memory is limited.
She remembers that Elise fell and lost a ski. She remembers helping Elsie put her ski back on.
And then everything goes blank.
At that moment, Kelli and Elise were struck by a 23-year-old snowboarder riding at a high speed.
Elise was killed instantly. The snowboarder was killed instantly. Kelli was in a coma, with a severe brain injury and a paralyzed arm.
The #RideAnotherDay Campaign
In 2017, Chauncy and Kelli Johnson launched the #RideAnotherDay safety campaign in cooperation with the National Ski Areas Association (NSAA) in Lakewood, Colorado.
In a recent conversation, Chauncy Johnson shared that the inspiration for the campaign came to him while Kelli was healing and rehabilitating at Craig Hospital in Denver.
Kelli Johnson was at Craig Hospital for several months. After she regained consciousness, Johnson had the terrible task of telling his wife that their daughter had died weeks earlier.
And yet during this time of suffering, a sense of compassion for the deceased snowboarder and his family grew with Johnson.
"He was someone else's child. I feel for his family," explains Johnson. "No one deserves to die just because of a poor choice."
"Because I don't want anyone else to have a similar experience, I became interested in helping people make safe decisions."
While recognizing that severe accidents, like the one that changed his family forever, are blessedly rare, Johnson believes in sharing his family's story. He believes that it can be used to build a culture of individual responsibility and on-mountain safety.
Working with NSAA and Boulder-based Active Interest Media (the current owners of Warren Miller Entertainment), the Johnsons developed a three-point, common-sense safety message.
Be Ready. Be ready to avoid objects and other skiers and riders.

Stay Alert. Stay alert to what's going on around you. Be especially alert to other skiers and riders.

Plan Ahead. Ease up at blind spots. Check uphill when merging onto trails. Give others plenty of room when passing.
As the trade group representing ski areas and ski resorts in the United States, NSAA is instrumental in getting messaging and campaign materials to ski areas, so that they can share the #RideAnotherDay campaign with guests.
Earl Saline is the campaign point person for NSAA.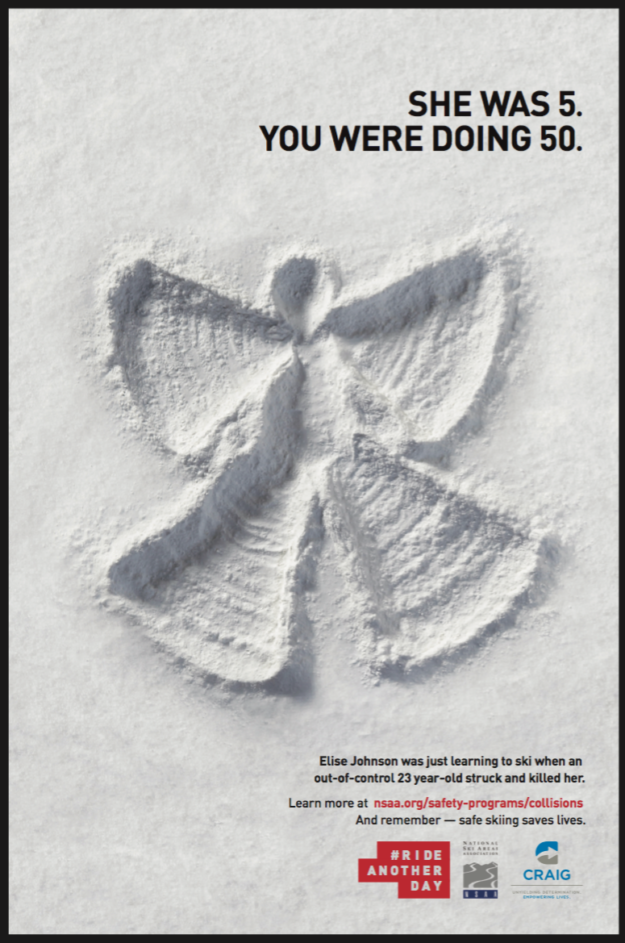 "The primary message of the #RideAnotherDay campaign is recognizing that there are real consequences for our actions on the slope. Consequences not just for us individually, but for those around us – our families, our friends," explains Saline.
"#RideAnotherDay is focused on helping skiers and riders understand this and, just as important, what actions they can take individually to prevent incidents like this from happening now and in the future."
As for the Johnsons, they are hopeful that their message will spread from the resorts and ski areas, where it has thus far been focused, to individual skiers and snowboarders.
"We don't want to scare anyone away from snowsports," shares Johnson. "But whenever you are skiing or riding, it's important for everyone to remember that you are responsible for more than just your own safety.
"I never expected to have a life-altering experience while doing my favorite thing. Use our story to examine your own behavior."
"If you see something dangerous, say something and do something about it."
Talk to ski patrol, or other ski area employees if you see dangerous behavior. Educate your family and friends about the importance of on-mountain safety and personal responsibility. Examine your own behavior and make changes.
Make a point of being ready, staying alert and planning ahead, so that we all can #RideAnotherDay.
by Kristen Lummis 
MTN Town Magazine | We are Colorado's Mountain Town Magazine
Copyright © 2018 MTN Town Magazine all rights reserved.