Maroon Bells is the Sh*T – AspenSpin.com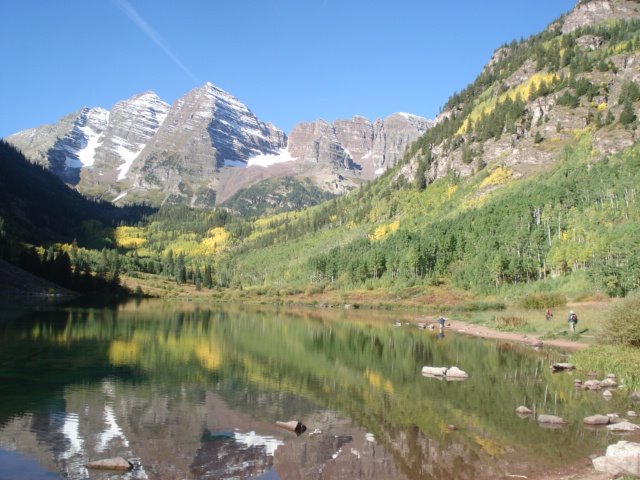 A man and his dog. A beautiful day. It was one of those special Colorado days. Crisp and cold in town, but you could see it was going to eventually be clear, sunny and beautiful.  As we pulled into the Maroon Bells parking lot at 8.15 a.m. the temp was reading 38'F.  It was early but I had already perused the tragic Aspen headline, Kenichi's Bill Rieger found dead. 
R.I.P. to Bad Billy.  (click for the story)
I had also digested 2 distasteful letters to the editor, one in each Aspen newspaper.  The writers Marilyn Marks and Elizabeth Milias. The topic?—who cares?  WTF Girlz??? If its so bad here in Aspen, why do you stick around? Why do you care so much?
The car ride to the Maroon Bells Wilderness is only about 15 minutes from Aspen, but it seemed like a world away from the small town blues.  The day had started off on a crummy note.  A good man lost to suicide and  two non-stop complainers, who seem to continuously write irritating, verbous, self-serving letters to the editor.  Add in all the other crappy world news of the day and another free-falling session in the stock market…yada yada yada.  Plus it was freezing.  I'M in FAVOR of a BEAUTIFUL DAY. (click 4 pix)
Carmelo and I passed the large throng of early morning photogs and on to the trail.   As our path wound through the trees towards Crater Lake I focused on the majestic beauty surrounding us. Amazing is not a strong enough word to describe the scene.  It was early enough to beat the  tourist crowds which allowed my dog and I to spend some quiet time in the woods (she was off-leash, shhhhh).  When we got to the lake…it was deserted. If you've made the short trek up there you know how beautiful it is, The Maroon Bells are the most photographed peaks in N. America.  Carmelo and I got some one-on-one play time as she unquestionably fetched her stick in the freezing cold mountain water of Crater Lake.  As the tourists began to reach the area around Crater Lake, and our solitary time had ended…it came to me… I'M IN FAVOR of a BEAUTIFUL DAY 
~Andrew Isreal, AspenSpin.com
AspenSpin.com has been documenting the over-the-top ski-town lifestyle in Aspen since 2006. From ski bums to Celebs. AspenSpin.com always gets the Money $hot.