Fantastic Fall Mountain Biking in the North Fruita Desert – BraveSkiMom.com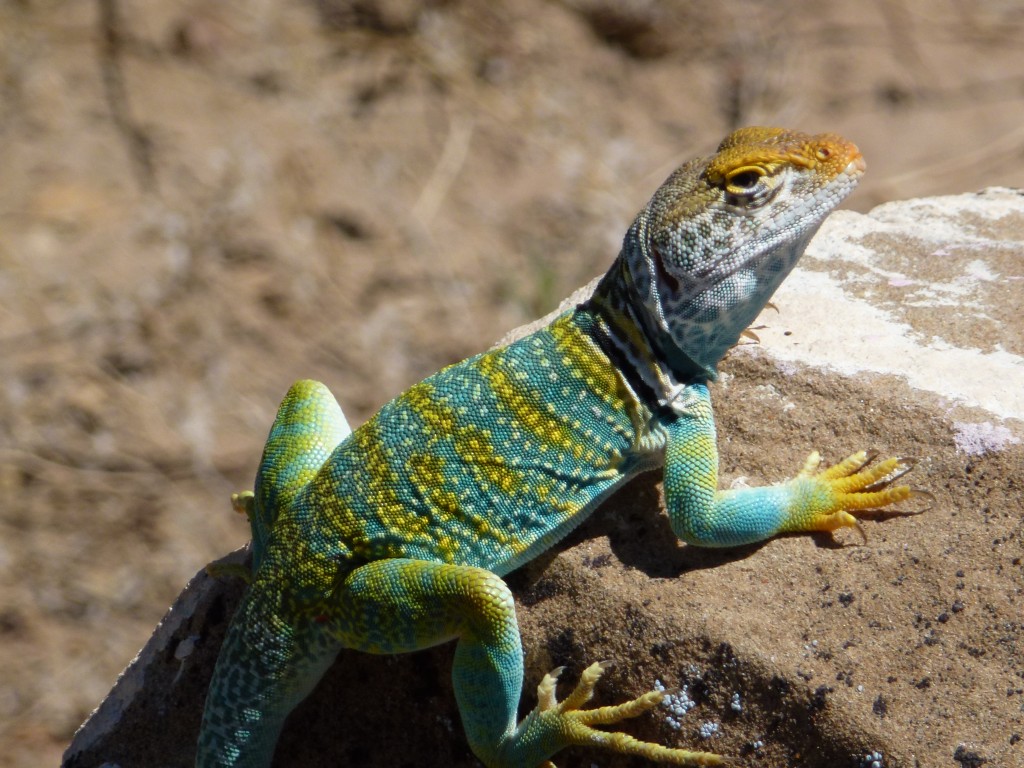 The Perfect Season For Desert Mountain Biking
During the summer, mountain biking at the North Fruita Desert (also known as 18 Road) is too daunting. Unless you go really, really early in the morning, it's too darn hot. Although some of the trails wind through  pinion and juniper forest, those trees — while green — don't offer much shade to anyone taller than a bobcat.
In the spring, the North Fruita Desert rocks. The campground at 18 Road is full, the trails are (mostly) dried out and, after a winter of suspended animation in your garage, your mountain bike is ready for some singletrack action. Of course, spring in the North Fruita Desert also means wind, snow, hail and rain.  And did I mention wind?
That leaves fall. By the end of September, the aspens are golden in the mountains while the changing cottonwoods and willows light up the valleys. Temperature swings in the desert are extreme. It may be near 80 during the day and near freezing at night. Layers are essential. The sky is deep blue and the stars multiply by the millions on clear nights. A full moon can provide enough light for a good hike, if not a safe bike ride.
While I hate to see the end of summer, I say bring it on. Yes, as a Brave Ski Mom, I'm all about winter, but I still want to relish each golden fall day.
When You Go…
Located 250 miles west of Denver along I-70, Fruita, Colorado has positioned itself over the past decade as a mountain biking mecca to rival Moab, Utah. An hour and a half closer to Denver than Moab, it makes for a perfect fall family getaway. The North Fruita Desert/18 Road area has the smoothest trails in the area ( for a map, click here), as well as the most convenient camping.   
Prime Cut: Check It Out First
In my opinion, the best trail for families is Prime Cut. A single track trail which starts in open desert, Prime Cut soon winds riders among pinion and juniper trees as they approach the base of the Bookcliffs range. Prime Cut ascends gradually and gets progressively harder as you ride, with some up and down whoop-de-doos (is that a technical term?) and some rocky areas. But there is no exposure.
Prime Cut ends near the campground and the beginning of several more difficult trails that climb into the Bookcliffs and traverse the base of the mountains, notably Zipity-Doo-Daa and Chutes and Ladders. Neither of these trails is easy, but they are mostly smooth and rewarding if you can take the climbs and the ripping descents (can you say "dismount?" I do).
In addition, Prime Cut links up with two other super fun trails. Kessel Run is the easiest option and is a blast for kids. Like Prime Cut, it is butter smooth and there is no exposure. Basically a downhill slalom, winding back and forth quickly, it is sure to elicit smiles and build confidence. Joe's Ridge takes you from Prime Cut to Zipity-Doo-Daa, but then climbs away from the Bookcliffs up some steep hills and rewards you with a roller coaster downhill before heading back along a double track to Kessel Run. Joe's offers a great introduction to the challenges of the other, harder North Fruita Desert trails.
Camping Information
The BLM operates a 30 site established campground with vault toilets in the area. According to a BLM ranger I met at 18 Road recently, the campground gets "more than full" in spring. Come fall, however, the pressure eases a bit as many families are busy with school activities. Camping is first come, first served and there is currently no fee to camp. If the campground is full, there are perimeter areas for undeveloped camping, provided you have a fire-pan and camp toilet.
The nearest groceries are in Fruita at City Market and the nearest showers are at the new Fruita Rec Center (phone 970-858-0360) which has an indoor pool, water slide and hot tub, as well as basketball, a running track and weight room.  And did I mention a hot tub? Admission is $6 for adults, $4 for kids.  Looking for a bike shop? Visit Chris at Single Tracks just off Circle Park in Fruita.
Enjoy!
© 2011, The Brave Ski Mom. All rights reserved. Republication, in part or entirety, requires a link back to this original post.