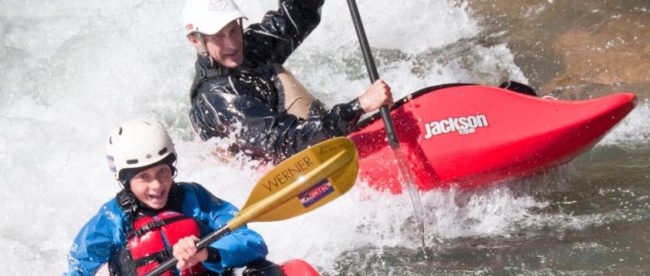 With its genesis in the majestic San Juan Mountains outside of Silverton and culmination with the San Juan River in New Mexico, the 126-mile-long Animas River is rife with unrivaled scenery, a remarkable history, and some of the best recreating opportunities in the Southwest US. And for the town of Durango, it's a thriving source of economy, inspiration, cultural pride and the location of the Durango Whitewater Park.
"The river is the lifeblood of Durango," says Cathy Metz, Parks and Recreation Director for the city of Durango. "And when you're on it, you forget you're in the middle of the city."
As the third largest commercially rafted river in Colorado, the Animas hosts over 60,000 users a year, generating no less than $19-million for Durango's bustling tourism industry.
The upper Animas is infamous for rowdy Class V+ rapids, so most of this business happens on the mellow lower Animas, where a few Class II and III rapids provide a wild ride and unforgettable adventure during peak flow as the snow melts and thunderstorms fill afternoon skies in early summer. During this time, turbid waters surge to 3,000-cubic-feet-per-second (cfs) and beyond, ideal for rafts and kayaks.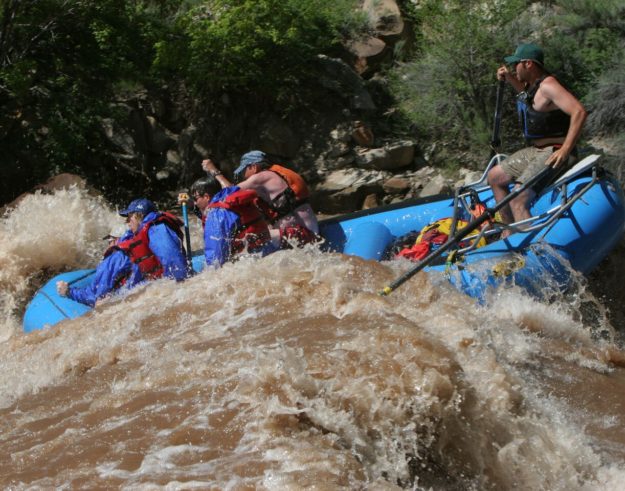 As the waters calm, duckies, dories, canoes, and standup paddleboards join the throngs of revelers, and by summer's end, the burbling trickle of 200-cfs is perfect for happy tubers on hot August days.
Most users put in their crafts at the 32nd Street Bridge and meander a few miles through town alongside the railroad, past charming neighborhoods, lush vegetation, curious wildlife, and the occasional brewery.
"It's basically a long, linear park right through town," says John Brennan, an avid paddler and member of the Animas River Task Force.
The crowning jewel of these Gold Medal waters comes just south of downtown Durango as the river curves around Smelter Mountain and drops into Smelter Rapid and the beginning of the Durango Whitewater Park.
Originally created in 1983 by a community of paddlers and engineers, the Park was the first whitewater park of this magnitude in the nation, boasting over 800 meters – top to bottom – of whitewater playground. Today, it's the only permanent kayak training site west of Oklahoma City, replete with permanent gates and 12 grouted-in elements, including eddies, flow deflectors, and four rapids: Smelter, Corner Pocket, Ponderosa, and Clocktower.
The first and largest rapid, Smelter, ranges from a Class II to IV rapid, depending on flow. Most commercial companies portage around the monster when the river strikes 2,000-cfs, as Smelter is notorious for sending unsuspecting folks for a chilly swim.
"The '96 Olympic course was designed after what we were doing in the Animas," says Brennan. "Most parks don't have the flow that the Animas has. Eastern river training sites are way lower volume, but here, it's never the same. Day to day, you're always training on a different river. Your balance is going to get phenomenal. Not to mention it's high-altitude training. Even when it's freezing or running at 100-cfs, it functions quite well."
Brennan adds that whether the Animas is spitting up roiling, frigid rapids during spring runoff or cruising in with steady pockets of clear, burbling water over smooth stones late in the summer, Durango's Whitewater Park offers something grand and refreshing for paddlers year-round.
Beyond unmatched recreational opportunities, the Whitewater Park also helped secure a Recreational In-Channel Diversionary (RICD) water right for the city of Durango in 2007, making the time and $1.2-million spent on the Park an invaluable investment for future generations. The RICD ensures that the Animas will pursue its natural flow for time eternal, as no one can dam or divert the water upstream.
"This right keeps water in the river for recreational purposes," says Brennan. "So it's not only great for multiple users, but it also allows the Animas to follow its natural hydrograph, which is fantastic for fish migration patterns, normal sediment transfer, and the general health of the river."
For your general health at day's end, do as the locals do and complement a flawless, Animas adventure with a flawless, locally-sourced brew for some apres-river celebrating. Happy splashing!
Directions to the Whitewater Park: From downtown Durango, travel south on Main Avenue and turn right (west) onto College Drive to Camino del Rio. Turn left (south) at the light and travel 0.85 miles to Santa Rita Drive. Turn right (west) and follow the road to the north end of Santa Rita Park. The Whitewater Park includes in-stream boating features on the Animas River, access to the Animas River Trail, fishing, and a grassy area and picnic tables. The park is handicap accessible and restrooms are available. To check water flow, please visit http://waterdata.usgs.gov/nwis.
By Joy Martin
MTN Town Magazine | We are Colorado's Mountain Town Magazine
Copyright © 2017 MTN Town Magazine all rights reserved.