Deerhammer – Pure Colorado Brandy for the Holidays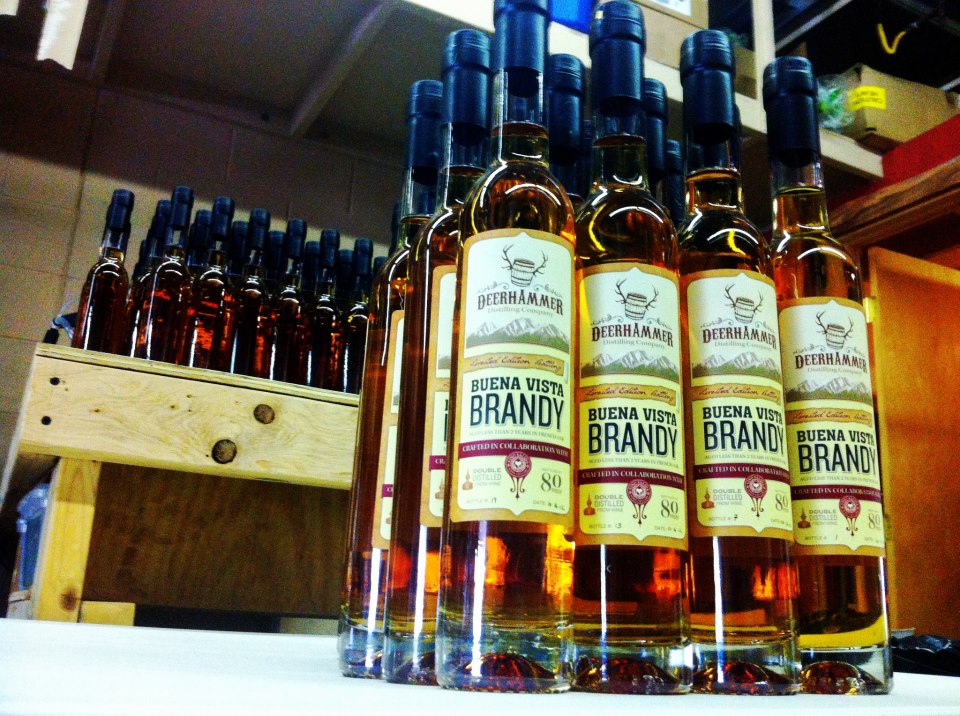 Just in time for holiday mirth-making and gift giving, Deerhammer Distilling Company introduces its first limited edition holiday release, Buena Vista Brandy. For the shopper looking for a uniquely Colorado gift, Deerhammer's Buena Vista Brandy is a great choice. Like the town where it's distilled, Buena Vista Brandy is simple, honest and authentic 80 proof, 100 percent Colorado crafted.
Haven't heard of Deerhammer!!? Nestled in Colorado's sweetly unpretentious Upper Arkansas River Valley, Deerhammer Distilling Company is a family owned and operated maker of small batch American Whiskey. The Colorado whiskey maker's inaugural release, Whitewater Whiskey, a fine un-aged white whiskey, earned a Silver Medal from the American Distilling Institute. The company's still, tasting room and patio are located on Main Street in downtown Buena Vista. To buy Deerhammer along Colorado's Front Range, visit "Get Some" on the Deerhammer website.
Craft whiskey, winemaker combine for limited edition release – Buena Vista Brandy is a collaboration between Deerhammer, and Vino Salida, a winery one half hour south of Buena Vista in the Upper Arkansas River Valley. Aged less than 2 years in French Oak, Buena Vista Brandy is naturally caramel colored and aromatic. "It was fun to collaborate with another small batch artisan right here in the Valley to come up with a uniquely Colorado brandy," said Deerhammer founder and head distiller Lenny Eckstein.
Eckstein crafted just one barrel of this special holiday spirit. Priced at $25, the limited edition brandy is only available for purchase while supplies last at the Deerhammer tasting room at 321 East Main Street in Buena Vista, a two-hour drive southwest of Denver.
Eckstein invites folks to come up to the distillery during Buena Vista's Fourth Annual Holiday Art Walk, Dec. 12 – 14, when downtown Buena Vista comes alive with art, music and refreshments. Deerhammer will be featuring the fine art photography of friend Joshua Marowitz whose story was recently featured on the Audubon magazine blog. For more complete information about the Artwalk, as it become available, visit the Chaffee County Council of the Arts online.
Eckstein described various ways to enjoy his brandy this holiday season. Aromatic and complex, BV Brandy can be simply served neat in a snifter for an after-dinner fireside drink. Brandy Spritzers make holiday brunches more festive and spiced brandied apple cider is a seasonal treat. Eckstein says his holiday classic eggnog, made with brandy, has been known to convert those who thought they didn't like 'nog.
Here's Eckstein's favorite eggnog recipe that he adapted from a basic recipe on About.com and combined with his fabulous brandy!
Deerhammer Eggnog
Yield: 12 – 16 servings
6 large eggs plus 2 yolks
½ cup, plus 2 TBL sugar
¼ tsp salt
4 Cups whole milk
½ Cup Buena Vista Brandy
1 TBL vanilla extract
½ tsp grated nutmeg
¼ Cup heavy cream, whipped to soft peaks
Additional grated nutmeg for garnish
Directions: Combine eggs, egg yolks, sugar and salt in heavy 3 or 4-quart pot, whisking until well combined. Continue whisking while pouring milk in a slow, steady stream until completely incorporated. Turn on burner to lowest possible heat setting. Place pot on burner and stir mixture continuously until an instant read thermometer reaches 160 degrees F. and the mixture thickens enough to coat the back of a spoon. Be patient. This should take about 25 to 30 minutes.
Strain mixture through a fine sieve into a large bowl to remove any accidental small cooked bits of egg. Add Buena Vista Brandy and nutmeg. Stir to combine. Pour into a glass pitcher, decanter, or container and cover with a lid or plastic wrap. Refrigerate this egg custard mixture to chill at least 4 hours or up to 3 days before finishing.
When ready to serve, pour heavy cream into a bowl and whip until it forms soft peaks. Fold whipped cream into cold custard mixture until combined. Serve in chilled cups or glasses and garnish with a sprinkle of nutmeg.
It's time to get our Holiday on, how about you? A perfect gift for almost everyone.  Cheers!
~MTN Town Magazine
Photo Credits: Lenny Eckstein
MtnTownViews.com is MTN Town Magazine's daily journal blogging about Colorado's mountain towns. Like them on Facebook and Follow on Twitter.
© 2012, MTN Town Magazine. All rights reserved. Republication, in part or entirety, requires permission.