Commercial Space Lease Auction – Unique Approach in Frisco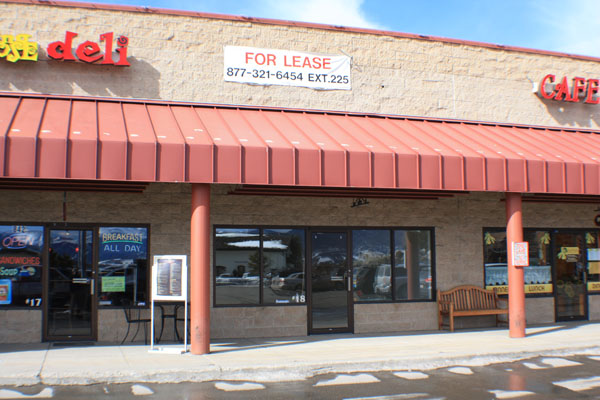 Here is an interesting new concept in obtaining a lease on commercial space. On May 25, 2011 there will be a Small Tenant Retail Space Auction that will allow small business owners the opportunity to neighbor Wal-Mart & Safeway at Frisco Station, Frisco (Summit County), Colorado. Here is a chance to get a great bargain on a three (3) year retail or office lease, at Summit County's most visible regional shopping center, right in the heart of Frisco's commercial shopping district!
Frisco Station is a nearly 181,000 square foot Summit County destination shopping center with over 25 national, regional and local retail concerns. The center's site is located on Colorado State Highway #9 at Interstate #70 (Breckenridge exit), and is exposed to total traffic counts of 67,800 vehicles per day in all directions.
This "core and shell" small tenant space is 1,445 leaseable square feet (unit #18), has ceiling, lighting, and bathroom in place, is freshly painted, and ready for flooring and immediate occupancy. Unit #18 is located between Wal-Mart and Wells Fargo Bank next to the popular Smiling Moose Deli and local area recognized gourmet bistro of "FoodHeads."
Are you a home based business looking to get to that next level in a professional center with consumer traffic and great curb appeal? Or are you an existing lessee of retail or office space in Summit County with a retail concept that lends itself to Frisco Station?
If so, take a chance and come be a part of this unique opportunity to bid on a lease with us at Frisco Station! You can join Summit County's only Wal-Mart shopping center now!
Register today at: http://www.friscoretailleaseauction.com/index.php to participate in the pending 5 Day Sale style, three (3) year lease rental auction of this well positioned retail space to receive a "Best-Bidder" gift certificate for $1,500 at Wal-Mart should you execute a lease!
Accepting online NNN lease rate bids starting at $6/square foot. Space will be auctioned 5 Day Sale Style on a three (3) year lease term on Wednesday, May 25, 2011 to the "Best Bidder". Brokers are Welcome! Call Kyle at (720) 979-7727 or email him at:
kcascioli@AcceleratedPropertyMarketing.com This e-mail address is being protected from spambots. You need JavaScript enabled to view it
Please Note: Neither you (bidder lessee), nor the owner (lessor), are bound by any lease bid until this Frisco Station retail space is available for viewing, the 5 Day Sale lease auction is held by the owner (lessor), and both the lessee and lessor have contractually agreed to the terms of a real estate lease. Be sure to checkout their website for further information http://www.friscoretailleaseauction.com/index.php/home