Colorado MTN Town Annual Spring Showdowns – Ski Country USA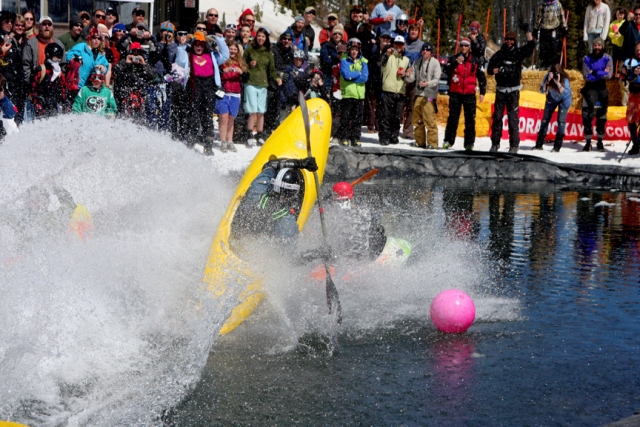 With more than a month of ski season left in Colorado, resorts throughout Colorado Ski Country are gearing up for their annual spring showdowns. Springtime in the Rockies pairs bluebird skies with long sunny days. This spring, Colorado Ski Country USA's (CSCUSA) member resorts are pairing action-packed events with value-packed deals. From adventure races, scavenger hunts and live music performances, below is a snapshot of this spring's events and deals in Colorado Ski Country.
Events
March 31
Echo Mountain
Echo's version of the Wild West happens on Saturday, March 31, at the Scion & Verizon Wireless Echo Mountain Roundup. Guests are invited to bust out their boots, hats and western garb as Denver's closest ski and snowboard area transforms into the 'Ole West. Scheduled activities include Scion's Design Your Own Snowboard Contest, a Lil' Wranglers Rail Jam, High Rollers Rail Jam, costume and eating contests, a mechanical bull, Rocky Mountain Chili Bowl snowboard giveaway, Moe's Original Bar B Que, plus much more. For details, please visit www.echomt.com.
April 1
Powderhorn
Closing Day at Powderhorn features the Pond Skim Beach Party and Pineapple Crackers band. The resort also features a $99 lift and lodging special based on double occupancy. More information can be found at http://www.powderhorn.com/lift-and-lodging-packages.
Steamboat
In celebration of the spring, Steamboat is hosting Springalicious, which offers a boatload of Springalicious festivities. The two-week long festival begins April 1st and includes free concerts from Keller Williams and JJ Grey & Mofro, the 32nd Annual Cardboard Classic, the 5th annual Splashdown Pond Skim and more. Find out all the details at www.steamboat.com/springalicious.
April 7 – 8
Monarch
Monarch's signature event, the 7th Annual Kayaks on Show, is back once again. Contestants race head to head, similar to Skier Cross, down a specially designed course featuring berms, banks, and bumps, ending in an icy pond. This event is as fun to watch as it is to race. Sponsors will be on hand to provide plenty of stoke for this unique event, including Mountain Khakis, Bolle, Colorado Kayak Supply, Camelbak, Cliff Bar/Aquaphor, and The North Face. For more information and registration, call 888-996-7669 x-5050.
Ski Granby Ranch (formerly SolVista Basin)
The resort winds down the season with its annual Spring Splash on Saturday, April 7 and ends with special Easter activities on Sunday, April 8. On both April 7 and 8, from 10 a.m. – 3 p.m., children's lift tickets to ski or ride with the Easter Bunny are just $49. Guests can reserve their children's spot with the Children's Center Ski/Ride by calling 888-850-4615. On April 8, it is skiing as usual, and there will be a children's Easter egg hunt. There will also be an Easter Brunch with the Easter Bunny at Granby Ranch's Seven Trails Grille. Guests are invited to reserve a table for the special Easter Brunch by calling 970-887-5200.
Arapahoe Basin
The Beach'N Egg Hunt is on again this year at Arapahoe Basin. The Easter Bunny and Chicken visit the area for an Easter Egg Hunt on skis. Both skiing and non-skiing children can participate. The Easter Bunny arrives at noon – just outside the Snowsports Center. The free egg hunts take place on Molly Hogan for guests who do not ski and on Wrangler for those that do ski.
Wolf Creek
Wolf Creek will be hosting Mens' and Ladies' Ski and Board Clinics april 7. Lift tickets and two hour group lessons for any ability level are $63. Also happening on both of these dates is a Senior Ski and Board Clinic, which features a lift ticket and two hour morning lesson for any ability for $49. Lastly, the Telemark Clinic takes place on March 24 and April 1, with lift tickets and a two hour morning lesson for any ability for $63. More information on these events can be found at http://www.wolfcreekski.com/wolf-creek-event-calendar.php.
Silverton
On April 8, Silverton celebrates spring on the mountain with this year's BrewSki. The theme for 2012 is a Preppy Party. Guests are encouraged to bring their croquet sets, argyle and cheese and crackers, as they enjoy spring skiing while sipping local microbrews. Past refreshments have been provided by Ska, Three Rivers, Carvers, Steamworks, Silverton and Durango breweries. Entrance to BrewSki is $15, or $12 with a lift ticket purchase or Silverton Mountain season pass holders. Book online www.silvertonmountain.com, or call 970-387-5706.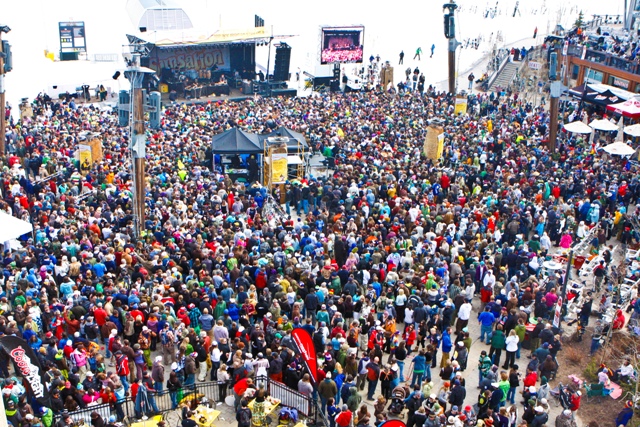 April 14 – 15
Copper Mountain
This year Sunsation returns to Copper Mountain on April 14 and 15. The free event kicks off on Saturday, April 14, with the first-ever CopperMan event, an obstacle course that will put ice in contestant's veins and finish with an end line celebration to put warmth in their hearts. Then, on Sunday, April 15, at 12 p.m., Copper and Woodward at Copper will host the inaugural Slopesoakers: Floating Rail Jam. Positioned in front of Jill's deck, the pond will have a rail floating on top of inner tubes, creating a unique spin on the traditional pond skim. The event is free, and guests are encouraged to come and watch some of the best athletes get soaked. Throughout the weekend, live music will feature from Pata Banton, Michal Menert, the Spazmatcis, and an all-female tribute Lez Zepplin. For more information, guests can visit www.coppersunsation.com.
April 21
Arapahoe Basin
The area will be hosting The Spyder Grind, an uphill, downhill adventure race designed to introduce new participants to backcountry skiing as well as challenge veteran skiers. Races are modeled after European randonee events with competitors beginning on foot and running to clip into their skis. Athletes skin uphill on a challenging course and race down to the finish. The race category vertical is approximately 4,500 ft., while the recreational category is 2,000 ft. Full details about Arapahoe Basin's events can be found at www.arapahoebasin.com/events.
April 28
Loveland
Loveland Ski Area will host the 11th Annual Corn Harvest Benefit Ski Party for the Colorado Avalanche Information Center (CAIC). This event is more than just a benefit, it's a good time with both old and new friends at Loveland Ski Area. Guests are invited to meet and ski with folks from CAIC to show their support for their efforts to help us all stay safe. Hawaiian shirts are encouraged and registration includes lunch, raffle tickets for great gear and prizes, beer from New Belgium, and live music on the patio at the end of the day. This is the ultimate experience to enjoy a great day of spring skiing with friends while giving back to a great cause. For more information on this events and other April events at Loveland visit http://www.skiloveland.com/events/April.aspx.
Deals/Packages
Crested Butte
The Elevation Hotel and Spa is offering a last minute end of season promotion; buy one night of lodging and get the second night free. Guests can stay one night and get the second free, stay a third night and get a fourth free. This deal continues with every second night free. The offer is good for travel from March 23 to April 7, and cannot be combined with any other offer. Resort fees and taxes are not included. For more information or to reserve online visit www.skicb.com/bogo or call Crested Butte Vacations at 800-600-2803.
Durango Mountain Resort
The whole family can enjoy Spring skiing at Durango Mountain Resort with its Spring Stay & Ski Packages, starting at just $249 per night. Guests can bring the whole family and stay and ski at Purgatory in March for only $249 per family, per night. Complemented by fun events for the entire family, the resort will feature live music, zip lining, tubing, fantastic skiing and riding conditions and incredible sunny days. The $249 per family, per night package is based on a family of two adults and two children (6-12 yrs). There is a slightly higher price for teens. This offer is valid on new reservations only and not valid with other offers or discounts. For more information, details and reservations, call 800.525.0892.
~MtnViews
PHOTOS COURTESY OF Colorado Ski Country USA