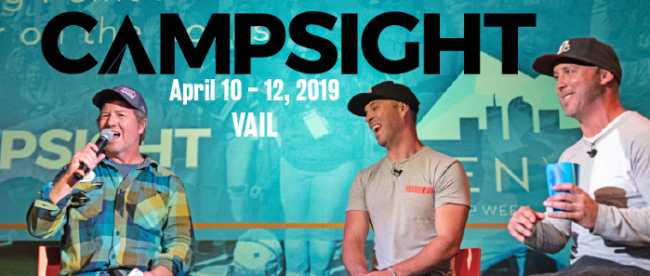 CAMPSIGHT VAIL – AN UNCONFERENCE
Have you heard about this three-day gathering, an unconference for innovative marketers, adventurous brands and outdoor-inspired entrepreneurs? Campsight is expanding to Vail this spring. Hundreds of passionate entrepreneurs and professionals are expected to attend the marketing and innovation camp held throughout the Town of Vail, April 10th through the 12th. Presenters from the Outdoor Industry Association, Colorado Tourism Office, National Geographic, Smartwool and more will be on hand to share their experiences and lend good advice to the events unconferees.
Need reasons to attend? To begin with, attendees don't sit in a meeting room all day. CampSight sessions are hosted in unique spots like local coffee shops, at local bars, restaurants, shops and you guessed it, around a campfire. With three days of campfire keynotes, interactive talks, workshops and even group activities, such as skiing and snowshoeing, CampSight is designed to inspire, inform and encourage interaction in non-traditional settings and unconventional ways.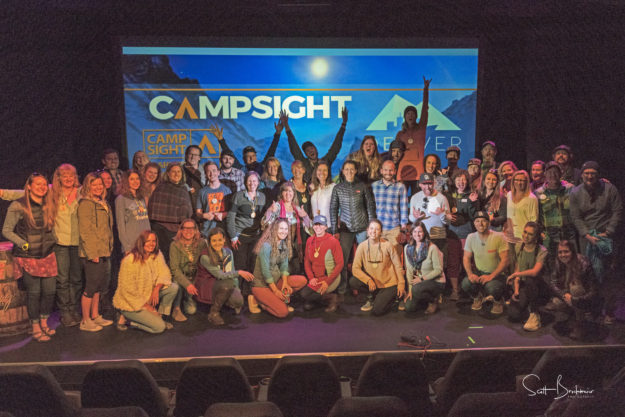 We have attended this badass conference…unconference in Breckenridge and want to let you know that the knowledge gleaned during this event is both inspiring and beneficial. CampSight encourages exploration and interaction – and is designed to provide an immersive experience for attendees, as well as to involve and support local business owners and entrepreneurs.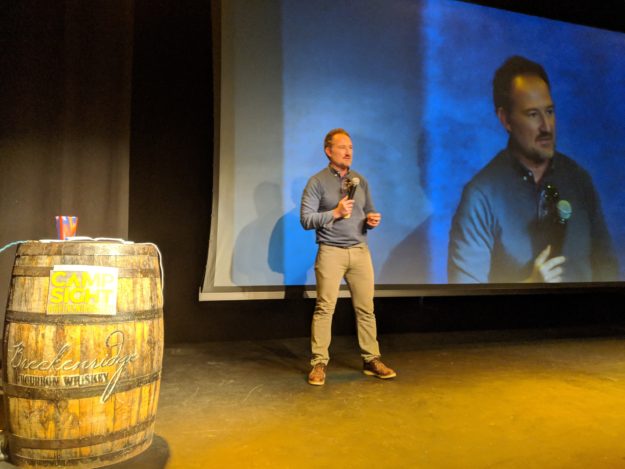 Event organizer Amy Kemp says "CampSight strives to create a space and place for attendees to have real discussions and lively, energizing debates about things that really matter and – as our friend and CampSight presenter, Max Potter, says, 'to nudge the universe in a positive direction' together."

In order to encourage everyone to participate and engage, boring Powerpoint presentations are banned, presenters are challenged to experiment with interactive formats and optional group activities are integrated into the schedule (like skiing and snowboarding for the Vail camp).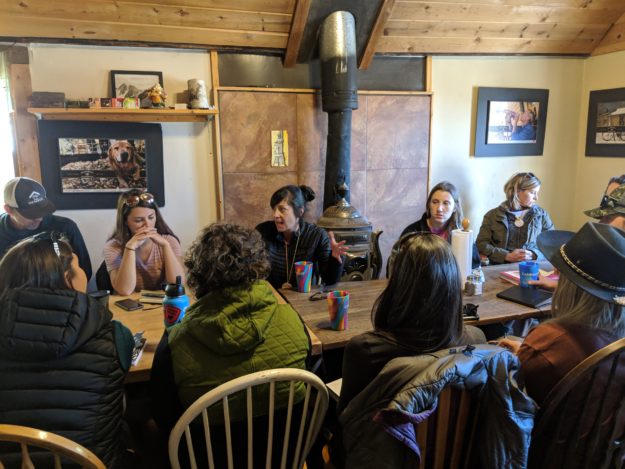 The focus of Camp has always been on storytelling and giving marketing leaders, brands and business owners the inspiration, as well as the tools and skills to drive business results. For the Vail event, the theme will be on sustainability and storytelling to highlight the community's work toward becoming the world's first certified sustainable destination.

CampSight kicks off on Wednesday, April 10 with a focus on Economic Sustainability and sessions led by Community Builders, Denver Startup Week and the Vail Valley Partnership. The second day – Thursday, April 11 highlights include coffee meetups, happy hour breakout sessions and optional skiing and snowboarding with Vail Valley local and pro skier, Chris Anthony, National Geographic Adventurer Shannon Galpin, Backbone Media, Bonfire Brewing and more.
The unconference wraps up on Friday, April 12 with sessions led by Cathy Ritter of the Colorado Tourism Office, Kim Langmaid from Walking Mountains Science Center and workshops on digital marketing by Galvanize.
Registration for the three-day unconference is ONLY $399 thanks to partnerships and underwriting support by The Town of Vail, Northwest Council of Governments, Manor Vail Lodge and others. CampSight is also offering scholarships for students, startups, and nonprofits. "We believe that one story, one project and hopefully one interaction here at CampSight will ignite changes," says Kemp.
For the lineup and more information about CampSight, visit thecampsight.co
Mountain Town Magazine | We are Colorado's Mountain Town Magazine
Copyright © 2019 MTN Town Magazine all rights reserved.