Arapahoe Basin Opens the 2012-13 Season for Colorado Skiers and Riders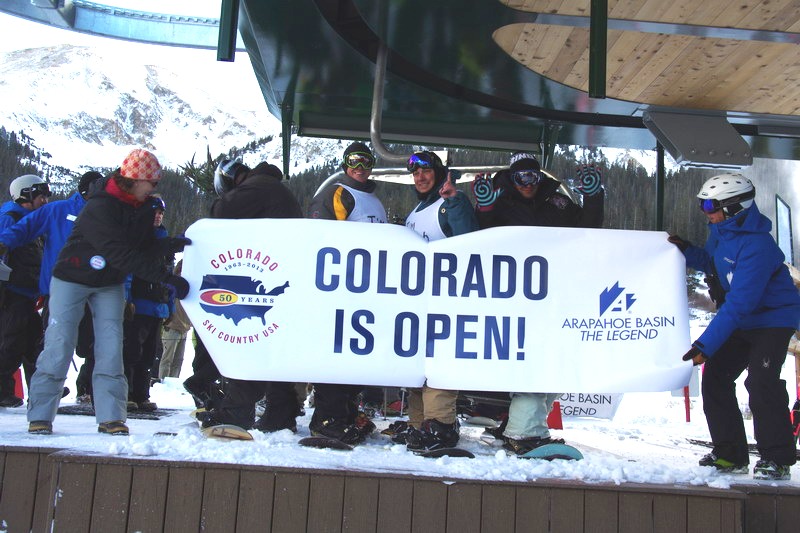 Arapahoe Basin has opened for the 2012 -13 Season today! The crowd was thick but overjoyed with the prospect of a new ski and ride season in front of them. KSMT provided the music and folks were rocking to the beat. You saw a smile on everyone's face as they loaded the lift and there was not a single complaint about having to wait in line.
Alan Henceroth, COO and Vice President of Arapahoe Basin, was excited to see the turn out and be the first ski area to open in Colorado. Media was everywhere, ready to report the excitement to all of you! I had a blast photographing the crowd (Click here for all of our pictures on Facebook). There is nothing like a crowd of happy people. Even the local Yeti was happy and generously handing out K2 Caps. In case you didn't know this Yeti is a Snowboarding fan, fur on the knuckles is helpful…
Colorado Ski Country has  the right campaign going – Vote SNOW! Even Mickey agrees and he is from the sunshine state. We agree, no smear campaigns here. The bar was packed and there were several brave souls out in the cold baring it all.
The skiing and riding you ask, Fabulous. Conditions were great. Black Mountain Express is running folks up to mid-mountain for skiing and riding on High Noon. The High Divide Terrain Park is open for business and ready for all you jibbers out there. October 17th, that's pretty darn good if you ask me!
Get your gear friends, the ski and ride season is here!
~MTN Town Magazine
PHOTO CREDITS: MTN Town Magazine, Featured Photo: Arapahoe Basin
MtnTownViews.com is MTN Town Magazine's daily journal blogging about Colorado's mountain towns. Like them on Facebook and Follow on Twitter.
© 2012, MTN Town Magazine. All rights reserved. Republication, in part or entirety, requires permission.