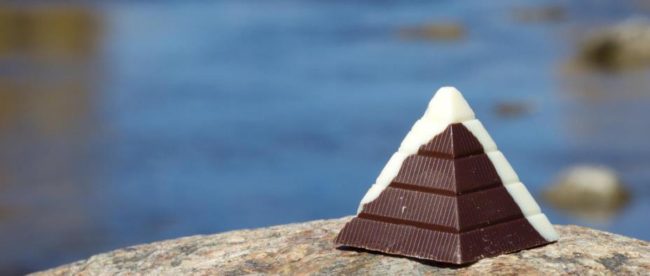 Animas Chocolate Company & The Chocolate River of Lost Souls
The Animas River runs through the heart of Durango, Colorado, bringing a source of joy and the occasional drama from high in the San Juan Mountains to the low places of Southwest Colorado. Originally called "El Rio de Las Animas Perdidas" by the Spanish, the Animas River's name references the lost souls that haunt these free-flowing waters. Whether those souls vanished on the river or are simply an allusion to abandoned riverside homes found by the Spaniards upon their arrival, we'll never know.
Imagine for a moment that the Animas River wasn't frigid H2O rushing from towering peaks to fertile valleys but was instead a rich, velvety ooze of chocolate. Now that's something worth losing your soul over.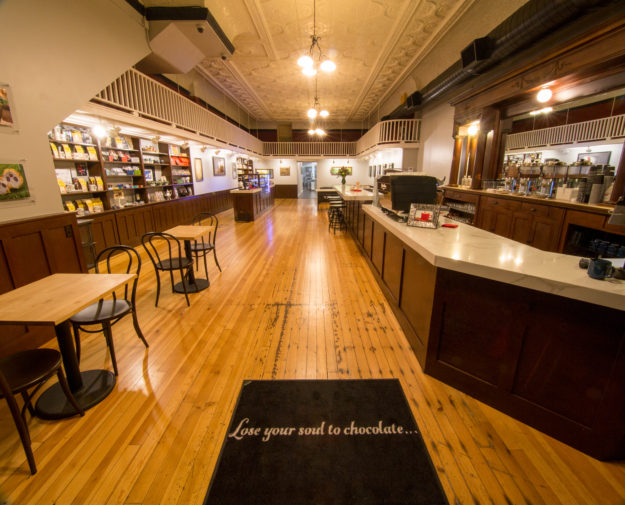 At least that's the plea behind Durango-based Animas Chocolate Company (ACC). "Lose your soul to chocolate" urges the boutique-style chocolate shop founded in 2011 by Carley and Marc Snider. Each of their fine treats, from River Bottom bark to the Twilight Peak truffle, pays homage to the Animas River, for the river inspired the Snider's to launch their journey with this 4,000-year-old indulgence.
While the saga of cocoa has roots in Mesoamerican civilizations, Carley's personal chocolate history started in her mother's kitchen in Wisconsin. With a degree in food chemistry and love for exactness, Carley's mother taught her how to bake, and the family reaped the mouthwatering benefits of perfect sponge cakes with chocolate frosting.
"She approached baking more scientifically than other moms might have," says Carley.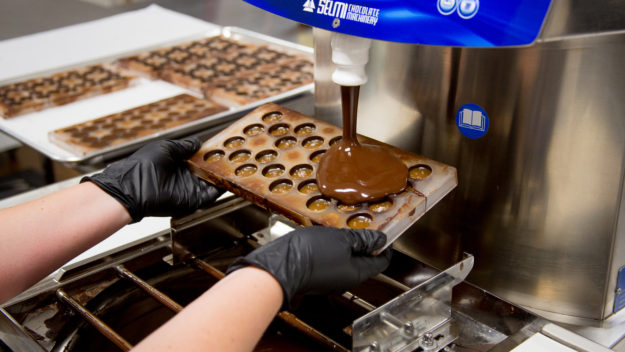 Carley, who hasn't taken a chemistry class since high school, earned degrees in French and history at the University of Wisconsin before migrating to Durango in 2006. For three summers, she worked at Tall Timber, a historic resort deep in the Weminuche Wilderness. There's no road to Tall Timber nestled under pines where the Upper Animas River parallels the Durango Silverton Narrow Gauge Railroad.
On an adventurous afternoon exploring the endless wild surrounding the property, Carly happened upon an old leather-bound family recipe book. The book, she suspects, is from the turn of the 20th century, with handwritten measurements and baking instructions scribbled in fine, fading cursive. Those yellowed pages spoke of homemade truffles and chocolate drops, kindling an idea that Carley would carry all the way back to Durango.  
She was in that spot in life where people tend to get stuck, trying to figure out which direction to grow in when she met her future husband, film producer and serial entrepreneur, Marc Snider. When he heard Carley's idea for bringing chocolate to Southwest Colorado, he jumped onboard, and the two got to work learning how to turn chocolate dreams into a viable business model.
"Marc is the motivator," says Carley. "He's the one always asking how we can keep moving and growing."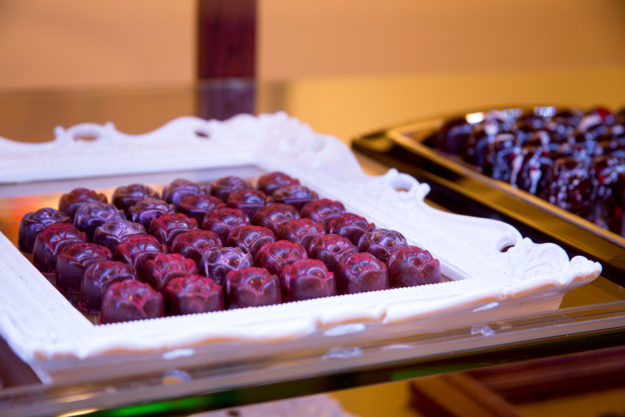 First things first, Carley attended Ecole Chocolat, the go-to online chocolate school, she says. Naturally, Carley forewent the methods suggested in the treasured recipe book (now under lock and key) and uses more modern cooking techniques.
Marc, meanwhile, honed the marketing and designing side of the business. Like Carley, he has a deep love for the Animas River, so the name and idea for the Animas River theme was easy to run with. Truffles, for instance, are rated like whitewater rapid classifications: Class I, II, III and IV. An example of Class III is the Tacoma Power Plant with sour jelly beans in dark chocolate. The Snakebite, a Class IV, is chile-infused dark chocolate ganache in a dark chocolate shell.
For their bean-to-bar chocolate, the Snider's choose to source from small, fair trade, organic farms and coops in Central and South America. As head chocolatier, Carley uses only all-organic cocoa beans, sugars and cream. With these staples intact, the Snider's established the Animas Chocolate Company using their own cash and a small business loan in 2011.
Carley started baking in the kitchen of the Chip Peddler, another Durango-based startup. She had a few wholesale clients that helped get her product in front of customers. After eight months, she moved into a commercial kitchen, where she had the space to develop more recipes. In 2015, ACC opened shop in North Durango, and things really started cooking.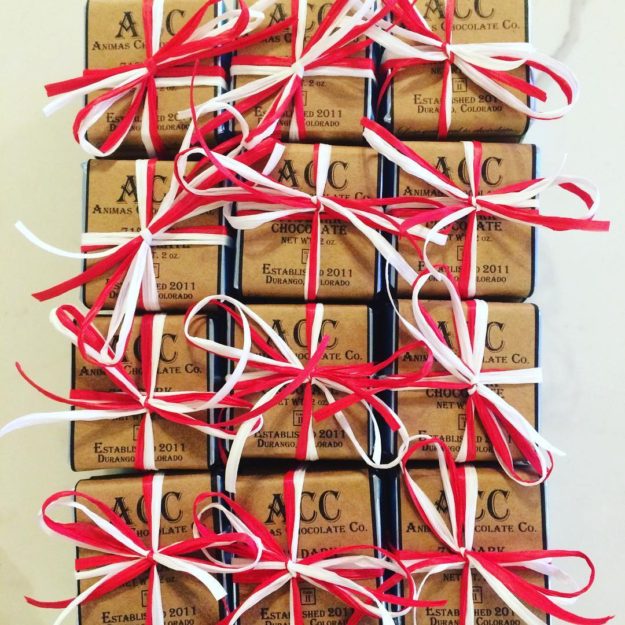 In October 2017, ACC finally found a place to call home in downtown Durango. The hands of destiny seemed to have drawn the Snider's to 920 Main Avenue, which was built in 1895 and eventually became Richey's Confectionery and Stationery, Durango's original candy shop. Carley's story came even more full circle when she learned that half of the original soda fountain at Richey's was shipped by train to Tall Timber Resort, where she discovered the recipe book.
The other half of the soda fountain sits behind the chocolate and espresso bar at the new Animas Chocolate Company location. The decor here has been carefully chosen to reflect the bygone days, even down to Grandmother's silver and an antique trunk from a downtown hotel. Besides the historical lure, passerby's won't be able to resist hot chocolate samples or the subtle scents of roasting cacao and whiskey-infused caramels wafting on the breeze.  
Carley is also planning to whip up batches of her grandmother's beloved recipe for chocolate oatmeal bars, a Depression-era throwback that doesn't use any flour. But perhaps the biggest enticement to ACC will be the answer to your apres-ski hot cocoa cravings: their powerful, consummate hot chocolate.
"This is unlike any hot chocolate people have ever had in this town," says Carley.
Carley's Smelter Hot Chocolate Mix uses a "smelting" of all the extra chocolates in a random blend of 34- to 71-percent milk chocolates and white chocolates. This perfect smelt calls to mind why cocoa was once considered a most opulent pleasure.
Before anyone figured out how to turn it into edible form, chocolate was sipped for thousands of years, but only by the wealthy. In some cultures, only men were allowed to drink chocolate – not women and definitely not children. Rumor has it that Aztec emperor, Montezuma, drank nearly 50 cups of chocolate a day to increase his libido.
Chocolate was considered a luxury item well into the 19th century. But, finally, after the invention of the cocoa press in 1828, cocoa production costs plummeted, and the average Joe, Jane and little Timmy could afford the coveted sweet. These days, people spend $75 billion annually on chocolate, with the average American consuming 12 pounds of it each year.
The International Chocolate Awards was founded in 2012 to help set standards for fine chocolate, and to also make sure the public understands the hard work that goes into every aspect of producing fine chocolate, from bean to bar. Judging takes place in different countries around the world each year and includes input from chocolate experts, tasters, pastry chefs, food journalists, sommeliers, chefs and a Grand Jury of (lucky) global ambassadors.
In 2016, Carley entered three of her favorite ACC treats: the Colorado Cache, which features Honeyville honey-infused whiskey caramel; the Highline Bolivia Bar touting top-shelf chocolate for the true connoisseur; and the Cinnamon Pass Swirl holiday truffle with Coole Swan-and-cinnamon-infused chocolate.
"It's Christmas in a little truffle," says Carley of the Cinnamon Pass Swirl.  
Per the rules, she submitted 40 samples of each product. A month after the judging, contestants are alerted if they made the finals. Out of 800 entries in the Bar Category, Carley's Highline Bar made the cut, but the Colorado Cache would eventually bring home the bronze in the Caramel Category.
"It's basically like you made the Olympics of the chocolate world," Carley laughs.  
The Highline Bar is ACC's most exceptional dark chocolate, aptly named after the most photogenic spot along the Durango Silverton Narrow Gauge Railroad. Here, the train winds along the track 400-feet above the Animas River surging below.
As Marc Snider wrote for his documentary tribute to the Animas River, "To truly understand the meanings and nomenclature of our products is to truly understand the Animas River."
May all your rivers bring rich, velvety dreams, and if you must lose your soul to something, may it be chocolate.
Animas Chocolate Company can be found at 920 Main Avenue in Durango, Colorado, or online at animaschocolatecompany.com. One of the best things about cooking with chocolate, says head chocolatier, Carley Snider, is that, if you mess it up, you don't have to throw it out; you can just re-melt it and start over. Bon appétit!    
by Joy Martin
MTN Town Magazine | We are Colorado's Mountain Town Magazine
Copyright © 2017 MTN Town Magazine all rights reserved.