7 Walkers = Last Dance at State Bridge for the 2012 Season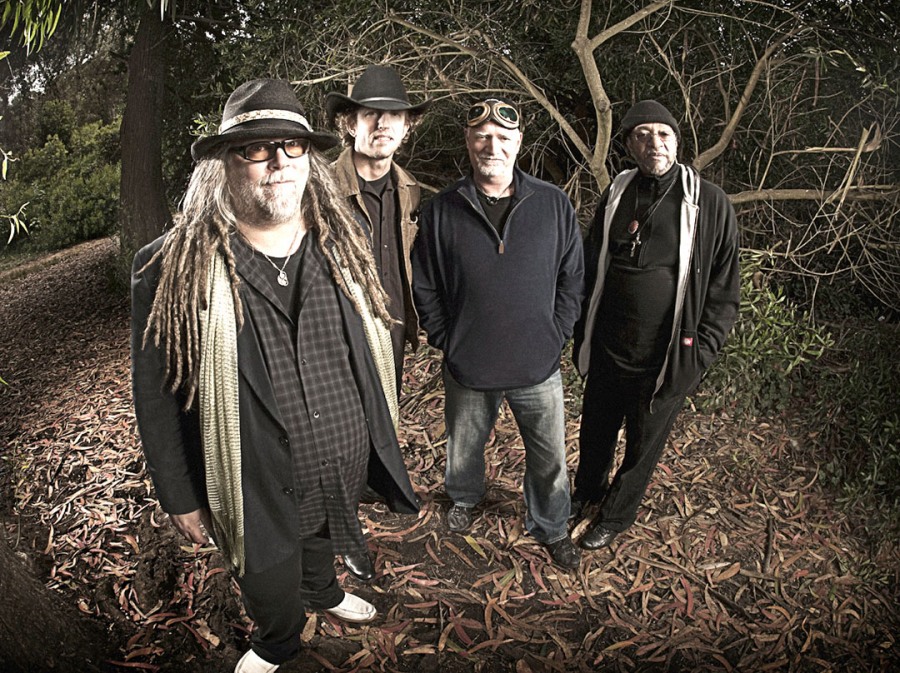 This is it, the last dance! Well, the last ticketed event. They'll still have Bluegrass & Bloodys this Saturday and Sunday, September 1 & 2, and Sundays after that, until you stop coming.  This weekend however former Grateful Dead drummer Bill Kreutzmann, 7 Walkers will again return to close out the State Bridge summer Friday, as they did in 2011.
Kreutzmann can barely contain his enthusiasm for 7 Walkers, his new band with voodoo guitarist Papa Mali, legendary New Orleans bassist George Porter Jr. of The Meters and multi-instrumentalist Matt Hubbard.
"I can't believe how much fun I'm having playing with these guys," said Kreutzmann, who never missed a gig in the Dead's 30 years together. "We're making art together and having the best time."
The band's latest album features a batch of brand-new originals co-written with Robert Hunter, lyricist for Grateful Dead and Bob Dylan, a guest performance by Willie Nelson and a some smokin' instrumentals. A self-proclaimed "open love letter" to the city of New Orleans, the end result is a fiery and funky collection of tunes that quite brilliantly capture a unique collaboration between two very different musical shamans.
7 Walkers formed in 2008 after Kreutzmann's girlfriend tipped him off about Papa Mali. "She said, 'You've got to check this guy out,' and she put one of his records on," Kreutzmann remembers. "I listened and I said, 'This cat's for real. I love this music.'"
A short while later, Kreutzmann and Mali met at an Oregon festival, hitting it off immediately and jamming for hours. They quickly hatched plans to make more music together. The original 7 Walkers lineup included bassist Reed Mathis, who performs on most of the alums tracks. When Mathis returned to his regular duties with the Bay Area jamband Tea Leaf Green, the band recruited George Porter, a founding member of New Orleans' iconic Meters, to take over responsibilities on bass.
For both Kreutzmann and Papa Mali, 7 Walkers, whose name is borrowed from one of the band's songs, is something of a dream come true. Kreutzmann has New Orleans in his DNA, literally. His mother was born there, and he's always been partial to the city's music throughout his career.
"I have a real feeling for that music, and I get along with the folks down there really well," he said. "This music comes from the Tchoupitoulas, the Mardi Gras Indian tribes. They're playing tribal rhythms, and somehow it connects with my spirit. Plus, I get to play with the No. 1 New Orleans bass player."
The first band Papa Mali ever saw performing live was the Meters, and witnessing Dr. John work his voodoo magic back when Mac Rebennack had just become the Night Tripper also had a huge effect on him.
"I am thankful that I spent a great deal of my life in New Orleans," Papa Mali said. "My music certainly reflects it. Much, if not most, of my musical development occurred there. I often played with some of the best talent that the city had to offer, starting in the early '70s and continuing even now."
With nearly all of the band's songs co-penned by Papa Mali and longtime Grateful Dead lyrist Hunter, 7 Walkers is an electrifying hybrid of classic Bay Area rock and New Orleans funk. Kreutzmann calls it "swampadelic."
THE SCOOP!
What: 7 Walkers with Bill Kreutzmann, Papa Mali and George Porter Jr.
Where: State Bridge Riverside Amphitheater, 127 Trough Road, Bond, CO
When: Friday, Aug. 31
Tickets: $20
Visit www.statebridge.com to view schedule and purchase tickets.
Have fun!
~MTN Town Magazine
PHOTO CREDITS: MTN Town Magazine, State Bridge
MtnTownViews.com is MTN Town Magazine's daily journal blogging about Colorado's mountain towns. Like them on Facebook and Follow on Twitter.
© 2012, MTN Town Magazine. All rights reserved. Republication, in part or entirety, requires permission.