Perfect Timing at Buttermilk and Snowmass, Colorado: Brave Ski Mom Ski Trip Report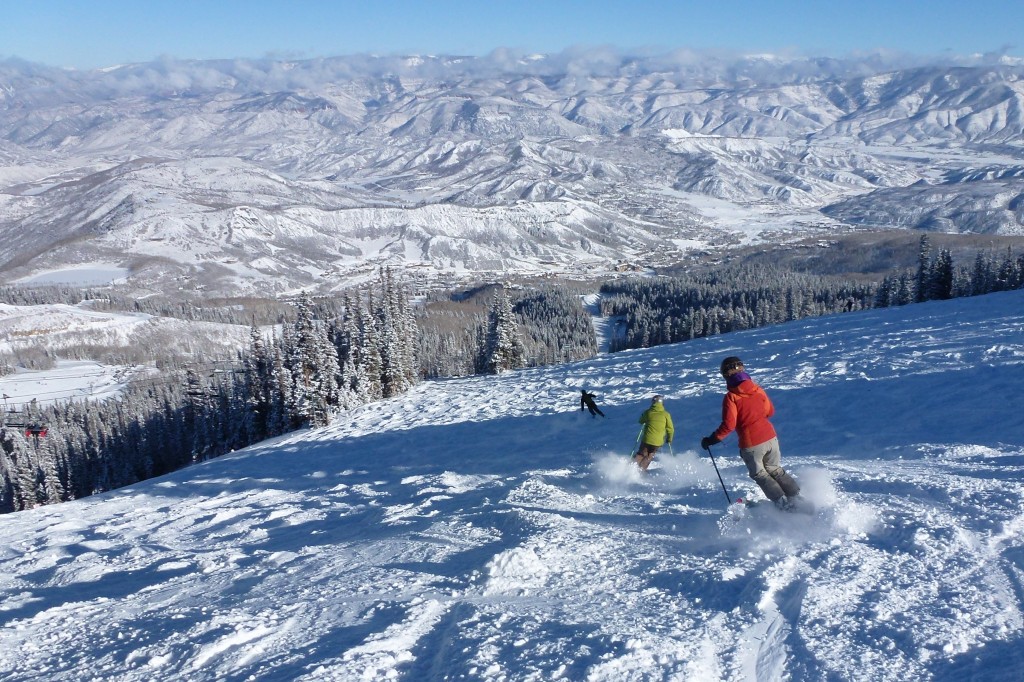 Sometimes, the timing just works out. After sixteen (that's 16!) days with no snow and a relentlessly blue sky, the snow came on a weekend. We'd been watching the weather reports all week and the forecast had been steady: snow on Saturday. When we went to bed on Friday, the sky was clear. It wasn't Saturday yet.
On Saturday, it snowed. Perfect timing.
Checking Out the New Tiehack Express
We didn't wake up to snow, and it didn't start snowing immediately, so we didn't rush out. But we did make it over to Buttermilk, at
Aspen/Snowmass
for an afternoon of skiing off of the new Tiehack Express. The new lift is fabulous, wonderful, incredible…and almost every other positive superlative of which I can think. The old lift at Tiehack was really two lifts, and they were slow, tedious, tiresome and almost every other negative superlative of which I can think.
Talk about perfect timing: The new lift whisks skiers and riders to the top in only 6:54 minutes. That's over 11 minutes faster than the old Tiehack combo.
We pulled into the Tiehack parking lot at 1:30, with light snow falling. We parked about 30 yards from the base and had a stress-free, enjoyable 2 hour ski. (Shout out to lift operator Darrell from Texas, who has the best iPod playlist ever.)
We skied all the Tiehack runs that where open and, while there were some thin spots, they were in amazingly good shape considering the 16 days without snow. Best of all, the snowfall increased in intensity all afternoon. By 2:30, the snow was getting soft, by 3:00 new snow was covering our tracks and when the lifts closed at 3:30, it was some of the best snow we'd seen all season. And that was just the beginning.
End of the day. Tiehack parking lot. See how close the lift is?!
Sunday at Snowmass
It snowed all night — at least the part of the night that we were awake. When we woke up on Sunday, the ski was kind of blue, kind of gray. But on the ground? At least eight inches of fresh snow. We looked at one another and laughed. "Winter starts today," I said. "Perfect timing."  By the time breakfast was over, we were under another relentless blue sky. Funny how much better that blue looks with fresh snow on the ground.
Sunday morning, January 8, 2012
It was our first day at Snowmass this season, and we stayed up high skiing the Big Burn, Sheer Bliss, High Alpine and Elk Camp. Almost all of the runs had good cover, although there were still some thin patches where the wind has scoured the Big Burn. But all-in-all, it was a perfect winter day, with lots of powder and nice soft moguls. The groomed runs off of Elk Camp were in great shape and probably the most popular place on the mountain.
My favorite runs of the day were Mick's Gully of off the Big Burn and Sheer Bliss – both were a great mixture of fresh pow, steep moguls and gorgeous vistas. Really, winter doesn't get any better than this. I'm so glad it's finally started.
When You Go….
We stayed in Aspen Saturday night at the
Mountain Chalet Aspen
. An old-school ski lodge, the Mountain Chalet has everything you need to warm up: complimentary coffee, cider, cocoa and cookies after skiing. It also has everything you need to relax: an outdoor heated pool, an indoor hot tub, sauna, steam room, and a bar with a view (and good prices on German beer). And the Mountain Chalet has everything you
TO READ MORE CLICK HERE
© 2012,
The Brave Ski Mom
. All rights reserved. Republication, in part or entirety, requires a link back to this original post.