The Finale – Copper is Partying!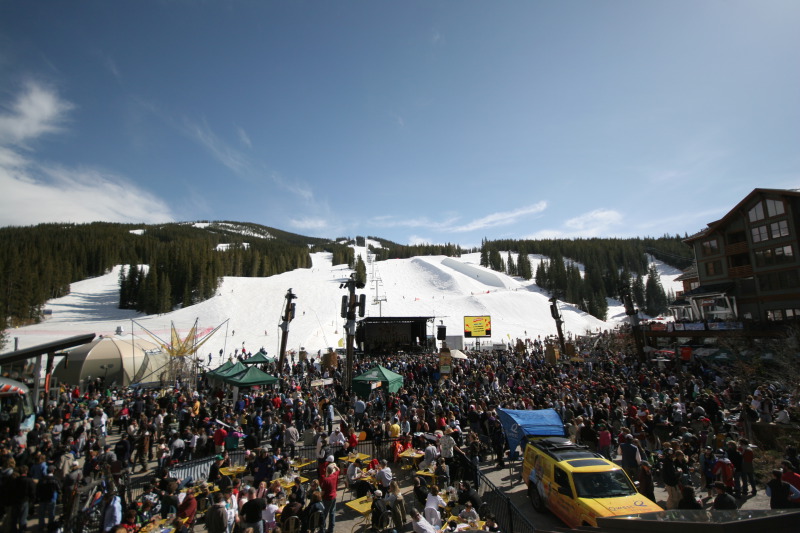 The snow is deep, the sun is bright and there's no better way to celebrate springtime than at Copper Mountain. After a season for the record books, there is only one way to end it – with a party! During weekend 2 of Sunsation, make sure to stop by Copper for a world record attempt, the Snow Day Fiesta Giveaway, Colorado's largest Easter Egg Hunt, and of course tons of free live music by The Stolen Instruments, Gunslinger, Something Underground, Post Paradise, as well as headlining acts The Samples on Sat., April 23 and Reel Big Fish on closing day, Sunday, April 24. Book a room and party all weekend while saving up to 55% with the Sunsation Lodging Dealio.
Saturday, April 23
1 p.m. – 3 p.m.
World Record Attempt
Center Village
Noon  
Free live music by The Stolen Instruments
Burning Stones Plaza
1:15 p.m.
Free live music by Gunslinger
Burning Stones Plaza
2:15 p.m.
Free live music by Something Underground
Burning Stones Plaza
3:45 p.m.
Snow Day Fiesta Giveaway
Burning Stones Plaza
4 p.m.
Free live music by headliners, The Samples
Burning Stones Plaza
THE SAMPLES –
 [youtube=http://www.youtube.com/watch?v=aeKyMa7mnbs&feature=player_detailpage]
Sunday, April 24 EASTER FESTIVITIES:
8:30 a.m.
Copper Mountain Community Church Service
Copper Chapel
10 a.m.           
Easter Bunny arrives
Center Village
10 a.m.           
Easter Egg Hunt – 7-11 years old
Center Village
10 a.m. – 2 p.m.
Easter Egg Hunt – 12-and-up
Center Village
10 a.m. – 4 p.m.           
Egg Putt Putt   
Center Village
11 a.m.           
Easter Egg Hunt – 6-and-under           
Center Village
Noon – 2 p.m.
Facebook Adult Easter Egg Scavenger Hunt
Copper Mountain (on-hill)
12:30 p.m.
Mountain Top Church Service
Top of American Eagle Lift
1 p.m. 
Peeps in the Pipe with Woodward at Copper
Main Vein Superpipe
*All times, performers and activities are subject to change.
World Record Attempt
It's time to break out those swimsuits and sunglasses because we are going to be working on our tan at this fiesta. But safety first, as we will be trying to break the world record for the most people to apply sunscreen at the same time. Just come on over to Burning Stones Plaza between 10 a.m. and about 3:45 p.m., apply some Zinka sunscreen, have your picture taken and share it with all of your friends on Facebook. It really is that easy!
Fiesta Giveaway!
It's also time for someone to have their life changed forever. That's right; we will be giving away the Snow Day Fiesta to one lucky guest. We'll even fill up the gas tank! For your last chance to enter to win the Fiesta, log-on to Facebook, "Like" Copper Mountain and then head into the 'Your Snow Day' tab and click where it says, "Thanks we 'Like' you too. Click here to enter to win." Fill out the form and you are entered to win! Do not need to be present to win the Fiesta! Restrictions apply.
Easter At Copper
Looking for something for the "big" kids out there on Easter? Copper's got you covered, with a brand new Facebook-only Easter Egg Scavenger Hunt. So, starting around noon on Easter, April 24, Copper will post hints, photos, clues, etc. on our Facebook Fan Page of where the roughly five to ten eggs are hidden on the big rock (aka the mountain). Guests will use these clues to find eggs with great prizes in them, including a Copper Mountain 2011-12 Four Pack, a brand new pair of Icelantic Skis, a couple of snowboards, a couple of Woodward at Copper One Hit Wonder Sessions and much more. Once you find one of the eggs, open it up to find out how to redeem your prize. Happy hunting!
The Swinger's Pass
Copper Mountain here to end mountain monogamy, so come get some. There's no question of loyalty here, it's just a day riding a mountain with easier access, free parking and fewer crowds. The Swinger's Pass has been re-activated for the remainder of the 2010-11 season, so just grab your season pass from that "other" mountain, sneak over to Copper and pick up the Swinger's Pass…one day at Copper for only $39, for the remainder of the season.
Sunsation Lodging Dealio – Save Up To 55% Off Lodging with a Free Unit-Size-Upgrade
Want to enjoy all the Sunsation festivities, but don't want to worry about how to get home afterward? Take advantage of the Sunsation Lodging Dealio Click Here!
Sponsors
Sunsation is sponsored by: Coors Light, Vitamin Water, Sprint, Jeep, Snickers, 93.3 FM – KTCL, Wells Fargo, Yakima, Cascadian Farm, Lara Bar, Jagermeister, Comcast Spotlight and KSMT – The Mountain.
IMAGES COURTESY OF: Copper Mountain
VIDEO COURTESY OF: The Samples
Please follow and like us: