Spring is for the Birds – 43rd Annual Breckenridge Chicken Race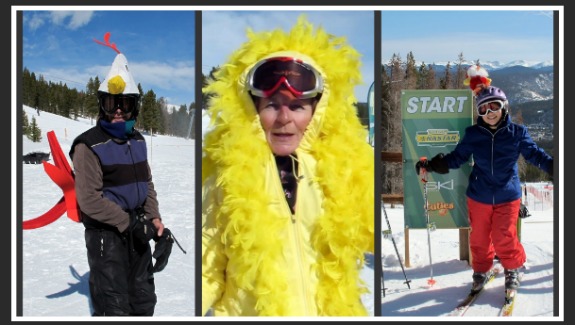 Its spring time in the mountains and you know what that means.  It means that you can expect to see anything and everything out on the slopes, enjoying the sunshine and warm weather.  Spring breakers, skiers in shorts or swimsuits and even the occasional………..chicken.
Cluck, cluck, you say?  Yes, you heard that right.  Every year in March two Colorado social ski clubs face off against each other in what has become known as the "Breckenridge Chicken Race".  This year marked the 43rd Annual Breckenridge Chicken Race.  The hometown favorite team was from the Schussbaumer Ski  Club, a private recreation, social and ski club based out of the Denver area.   The Club boasts a membership of over 200 active adults that enjoy a variety of Colorado outdoor recreational opportunities.    The Schussbaumer Ski Club owns a chalet on the road to Peak 8 that sleeps up to 72 people, dormitory style.
And the challenger was the Colorado Springs Sno Jets.   The Sno Jets are the oldest, non-profit ski club in Southern Colorado.   The Sno Jets meet weekly in Colorado Springs during the ski season and they also offer a wealth of social and recreational activities for active adults.
Enough about them and on to the Chicken Race.  Now before we have PETA up in arms about the poor treatment the chickens in Breckenridge are experiencing, let me explain.  It's not actual chickens skiing down the NASTAR course at Breckenridge Ski Resort, its grown adults dressed up like chickens.
I'm not exactly clear why they dress up like chickens.  It's been going on for 43 years now, and you know how these things start and catch on.   Perhaps someone bought a new, snazzy yellow ski outfit almost half a century ago, their friend kidded them about looking like a chicken and here we are 43 years later.  It could have happened that way. 
Another unique twist:  they know who's going to win the race before it begins.  (No need to recruit Lindsey Vonn or any other champion skiers or ringers for this race.)    They simply trade off every other year between the two clubs, taking turns on which club "wins".  The predetermined winner this year was the Schussbaumers.  No doubt they were gracious in their victory, since they already know they'll be the losers next year.  Chivalry is alive and well in this annual ski race.
As is a keen sense of fashion and fun, as evidenced in their costumes.  Chicken fashionistas ran the gamut from stylish and understated (chicken necklaces and charms) to over the top (bird costumes with yellow feather boas).  And then of course there was the ever popular rubber-chicken-hatching-out-of-the-ski-suit attire.
All in all, a great time was had by the participants from both clubs and the day ended with a dinner and awards banquet.  So next time you see a person dressed like a chicken going down the NASTAR course at Breckenridge in March, simply ask "Hey, do you belong to the Schussbaumer Ski Club or the Sno Jets, and whose turn is it to win this year?".
Click here to see a short video from this year's race.