Ski season has ended….Breck Buzz: says who?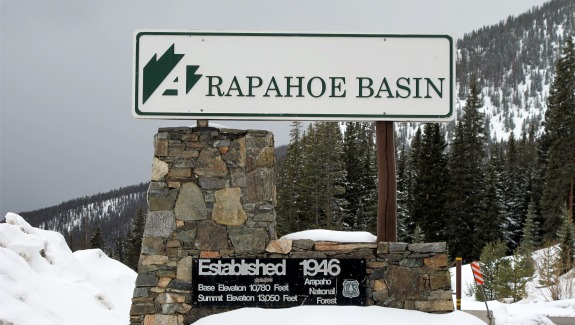 It's that time of year again, when most of the major ski areas have closed and some folks start putting their gear up until next season.  But here in Summit County, Colo., ski season hasn't ended, it's only shifted venues.  To
Arapahoe Basin
, or "the Basin," as the locals call it.
A-Basin is scheduled to be open until June 5 and then open for two consecutive weekends there after! 
Arapahoe Basin's Al's Blog
reports the following: "With the incredible snowfall and cool weather, we are extending the season. We will be open 7 days a week through June 5. We will re-open for AT LEAST 2 3-day weekends June 10, 11, and 12 and June 17, 18, and 19. Each day we will open at 8:30 AM. Black Mountain Express will close at 2:00 PM and Lenawee Mountain Lift will close at 2:30 PM. The next question, of course, is what about the 4th of July. Well, we would like to be open on the 4th, but it is still a little too early to make that call. Please be patient on that one. We are excited about the great snow season and are very excited to be open for extra skiing and riding in June."Yes, you heard that right !  So you know what that means right?  It means that since a variety of Colorado ski areas open in October, that you can make your ski season in Colorado last for 9 months, if you play your cards right.  If you start in October and ski through June 6, then you will only have three months without
skiing in Colorado: July, August, September.  Not that anyone is counting, right?
Ski-a-holics: rejoice!  With the record snowfall that we've experienced this year, there's still plenty of white stuff for you to ski.  It was dumping fresh snow at Breckenridge Ski Resort and all over Summit County during Easter weekend.  If you haven't skied at the Basin, you are in for a treat.  First of all, parking is free and the Basin is charming.  In fact, the Basin is a favorite spot for locals and ski teams alike, so don't be surprised if you see some great skiers practicing. 
I took the picture at the right in 2008 while watching the US Freestyle Moguls ski team practicing in May at the Basin.  The young lady in the picture went on to win an Olympic Gold Medal last year in Vancouver.  Yep, that's no other than Hannah Kearney, practicing in May at the Basin.  Like I said, don't be surprised if you see some great skiers!
In the last few years, the Basin has made a number of additions, including expanded parking and an on-mountain restaurant, the Black Mountain Lodge.  Even more exciting was the addition of Montezuma Bowl in 2008, which expanded their terrain by 80 percent.  There is more for you to discover at the Basin than ever before.
Simply put, you can continue to ski or ride, while enjoying all the beauty and grandeur of the Rocky Mountains, by simply driving up the highway to Arapahoe Basin.  To ski or not to ski….the choice is yours!