Say it Ain't So – A Springalicious™ end to Steamboat Ski Area's Season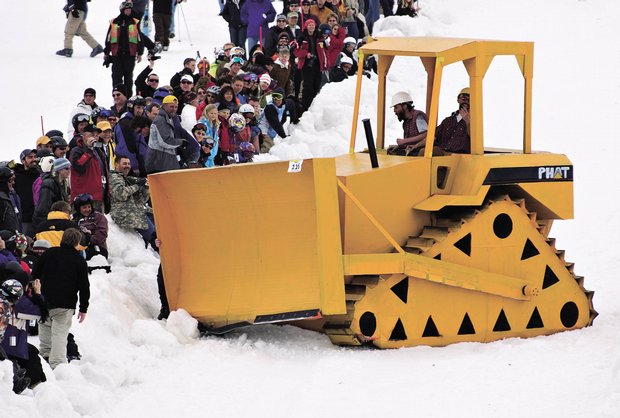 The Steamboat Ski Area will celebrate the end of its 48th winter season April 8-10 with a record breaking 400-inch Champagne Powder® snow season and a boatload of Springalicious™ festivities. The fun events include the Red Bull Buttercup, 31st Cardboard Classic and 4th Splashdown Pond Skim, along with FREE music concerts by katchafire and the Wailers.  
Steamboat plans to put a spring in your step during Springalicious™ featuring a boatload of free music, special values and signature events like Cardboard Classic and the Splashdown Pond Skim. Live music is a constant staple of the "Music Capitol of the Rockies" and closing weekend will be no exception. On Sunday, April 10th, a FREE blow-out end-of-season concert will fill Gondola Square with the relaxing international reggae sounds of katchafire, an all Maori reggae band from New Zealand, followed by the legendary Wailers, the greatest living exponents of Jamaica's reggae tradition.
 The Cardboard Classic, Steamboat's traditional rite of spring, and the Splashdown Pond Skimming competition act as the cornerstone events for Springalicious™. The Cardboard Classic celebrates its 31st year on Saturday, April 9th, featuring homemade cardboard crafts racing to a hysterical finish. Steamboat's bravest (and maybe craziest) skiers and riders will attempt to cross an ice-cold pond at the base of the mountain during the 4th Splashdown Pond Skim on Sunday, April 10th.  Registration, which is limited to 50 crafts and skimmers for the Cardboard Classic and Pond Skim respectively, is current open online and spots are going quickly. 
We love that Steamboat will start to close mountain lifts approximately 45 minutes early on Sunday, April 10th so that everyone (guests & staff alike) may enjoy these special end-of-season free concerts. Morningside lift will close at 2:30pm; Burgess Creek, Four Points, Storm Peak Express, Sundown Express, Sunshine Express at 3:00pm and Christie Peak Express, Bashor, Gondola and Thunderhead Express at 3:15pm. Bar UE, Pony Express and Rough Rider are expected to finish out the season April 3rd. 
Gondola Joe's, Bear River, Geano's, Thunderhead Food Court, Stoker Bar, 4 Points Hut and Rendezvous Food Court are expected to offer a variety of options over closing weekend. On the rental side, equipment will be available through closing day at Ski & Sport-Gondola Square & Sheraton locations as well as the new Pro Shop. 
The Gondola Square and Ski Times Square Parking Structures will operate normally for paid parking over the weekend. In addition, the Knoll Parking Lot and the Meadows Parking Lot will remain open with free parking through Sunday, April 10th. The Resort encourages the use of the free SST bus, lodging property shuttle; and, if you need to drive please share the ride with friends, family or co-workers.
 For the last day of  Planning ahead for Steamboat's Springalicious™ celebration, guests can Ski Free in April when they book a minimum 3 nights lodging through Steamboat Central Reservations® at 800-922-2722 or www.steamboat.com/skifree.*  Or skiers and riders can get a boatload of skiing with the Springalicious 4-Pack Pass provides any four days in April for just $99. Springalicious 4-Pack Passes must be purchased online at least 24-hours in advance of first use and photo and liability form required for all pass holders. Better yet, get a jump on the 2011/12 season by locking in the lowest rates on Steamboat Season & Pure Passes through June 1st, www.steamboat.com/seasonpass.
Friday, April 8th:
10-4pm………………………………….. Red Bull Buttercup
3:00-Dusk………………………………. Coca-Cola Adventure Zone Activities
3:30-5:30pm……………………………. Après-ski at the Bear River Bar & Grill
Saturday, April 9th:
10:00am…………………………………. 31st Cardboard Classic Judging
10:00am-6:00pm………………………. Coca-Cola Adventure Zone Activities
11:00am…………………………………. 31st Cardboard Classic Race
3:30-5:30pm……………………………. Après-ski at the Bear River Bar & Grill
Sunday, April 10th
10:00am-6:00pm………………………. Coca-Cola Adventure Zone Activities
1:00pm………………………………….. 4th Splashdown Pond Skim
2:30pm………………………………….. Bud Light Rocks the Boat Free Concert – katchafire
2:30pm………………………………….. Bashor & Morningside Lifts Close
3:00pm………………………………….. Burgess Creek, Storm Peak Express, Sundown Express & Sunshine Express Lifts Close
3:00pm………………………………….. Thunderhead & Rendezvous Facilities Close
3:15pm………………………………….. Christie Peak Express, Thunderhead Express and the Gondola Lifts Close
3:30-5:30pm……………………………. Après-ski at the Bear River Bar & Grill
~4:00pm………………………………… Bud Light Rocks the Boat Free Concert – The Wailers
OPENING PHOTO CREDIT: http://www.exploresteamboat.com/news/2009/apr/09/closing_day_activities_planned/