Lyle Lovett. Breckenridge. June 16. Be There.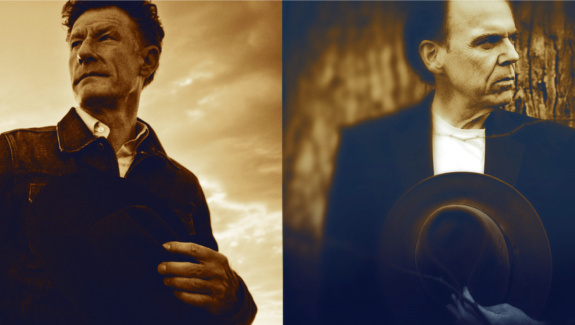 So, you think you're a Lyle Lovett fan?  Well here's your chance to prove it.  See if you know the answers to the following five questions and then hurry up and get your tickets to see Lyle perform live in Breckenridge, Colorado on June 16:
Was Lyle born in Cline, Texas or Klein, Texas? Inquiring minds want to know 🙂
Is Lyle partial to Aggies or Longhorns?
Is Lyle more likely to say "Führen sie das salz, bitte" or "Passer le sel, s'il vous plait"?
What state inducted Lyle into their Film Hall of Fame?
Does Lyle have a fondness for cattle?
Since you're a Lyle fan, you already knew that he was born in Klein, Texas, which was founded by his great-great-grandfather, Adam Klein.  And alas, he is an Aggie, as he graduated from Texas A&M University with a BA in German.   With all that Texas history, it's a no-brainer that he was inducted into the Texas Film Hall of Fame, but I bet you didn't know that he's not fond of cattle – at all – after being trampled by a bull on his ranch a few years ago.  And all bull aside, if you want to see him up close and personal, this is your chance, because Lyle will be performing at the Riverwalk Center in Breckenridge, Colorado on June 16!
But wait, there's more………..performing with Lyle Lovett will be John Hiatt.  Yes, that's right, just like your favorite pair of skis, this is a two-for-one special too good to pass up. 
Imagine:
Lyle Lovett: a multiple Grammy winner and guitar-playing-singer/songwriter with an eclectic array of music, ranging from country and folk to big-band swing and traditional pop……
……AND……
John Hiatt: who's 30-year career includes songs that have been covered by a diverse range of artists including Bob Dylan, Eric Clapton and B. B. King, Bonnie Raitt, Emmylou Harris, Iggy Pop, The Neville Brothers, Roseanne Cash, and Willie Nelson.  Hiatt is such a respected and influential singer/songwriter that he received the 2008 Lifetime Achievement Award for Songwriting from The Americana Music Association.
And you can see them both perform live, at the Breckenridge Riverwalk Center, a 770 seat heated indoor amphitheater.  The Riverwalk Center is flexible with seating and glass doors that open onto a lawn located next to the Blue River that accommodates even more music lovers.  Tickets are selling fast, so your best bet is to click here to buy them online, as phone and in-person purchases are not available until May 29 when the Riverwalk Center Box Office opens for the season.  If you need a place to stay, be sure to check out lodging deals available through Breckenridge Ski Resort and the Breckenridge Resort Chamber.
If you can't make it to Breckenridge in June, then consider coming for July 4th, when Rusted Root will perform at the Riverwalk Center.   Or even better……..come see both concerts.  Breckenridge is just as beautiful in the summer as during the ski season – come check it out!
– Jenise Jensen, Breck Buzz