Leftover Salmon to Headline Crested Butte Ski Town Breakdown

March brings sun, snow and some amazing music in the mountains. It is time to get funky this spring at Crested Butte Mountain Resort, as it hosts the annual Ski Town Breakdown on Saturday, March 18. Now in its seventh season, this year's show brings in Colorado jamgrass revolutionaries with Crested Butte roots, Leftover Salmon. The concert is free for all to enjoy springtime sunshine and quintessential Colorado music after a great day on the slopes.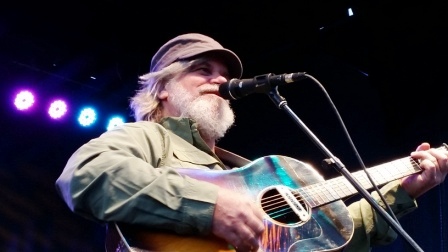 "This legendary show performing live at the base of the lifts is yet another reason Crested Butte is known as 'Colorado's Last Great Ski Town'" says Patti Hensley, Events Manager for CBMR. "The Odell Brewing and LandShark Lager draft trailer will keep the beer flowing. The band has two amazing sets planned to keep everyone noodling in their boots until sunset. You won't want to miss this once in a lifetime experience – snow or shine!"
Ski Town Breakdown starts around 4:30 p.m. on March 18, giving everyone plenty of time to ski and ride, and then celebrate the day with a beverage, warm sunshine and outstanding live music.
Formed in Boulder over 25 years ago, Leftover Salmon's form of aggressive bluegrass helped them become a pillar of the jam band scene and unwitting architects of jamgrass. Celebrated as one of the most energetic and innovative mandolin players in Americana music, Drew Emmitt is back to play in his hometown of Crested Butte, Colorado. Drew has played several times at CBMR over the years with members of the band as well as many talented friends. It was time to bring the entire band to Crested Butte for Ski Town Breakdown 2017 for one of the best shows Crested Butte has seen in years!
Spring Promotions to Take Advantage of:
3rd Night and 3rd Day Free
Those looking to visit Crested Butte can now enjoy some of the best conditions of the season with an additional nights' lodging and day of skiing free. Purchase two nights of lodging and two days of lift tickets as a package between March 17 and April 8, 2017 and receive a third night of lodging and third day of skiing for free. Minimal blackout dates may apply.
If you seriously needed another reason to visit Crested Butte then this might be it. We wish we could teleport here more often than not.
~MTN Town Magazine
MTN Town Magazine | We are Colorado's Mountain Town Magazine
Copyright © 2017 MTN Town Magazine all rights reserved.
Music & Nightlife Reports Are Sponsored By