Breckenridge Festival of Film – June 9 – 11, 2011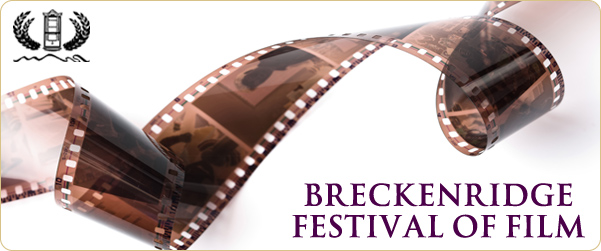 Established in 1981, the Breckenridge Festival of Film is one of the oldest film festivals in the country. The Breckenridge Festival of Film is Thursday, June 9th through Sunday, June 11, 2011 to celebrate the art of filmmaking. This year's event features 56 independent dramas, short dramas, comedies, short comedies, documentaries and big picture premieres.
The Festival kicks off the 31st Anniversary with All Day Indies at the three Breckenridge Theatres:  Town Hall Amphitheatre, Breckenridge Theatre and Speakeasy Theatre at 10am.  The much anticipated Children's Premiere is "Judy Moody and the Not So Bummer Summer". It will screen at 4pm Thursday, June 9 at the Speakeasy Theatre and opens worldwide the following day, once again putting Breckenridge Festival of Film ahead of the curve.  A special screening of  "The Kennedy Detail"  4pm, Thursday at the Breckenridge Theatre will be accompanied by a book signing by Special Agent, Gerald S. Blaine and a celebrity guest.  The distinguished honor of Opening Night Film was awarded to " Der Sandman", an independent film entered in this year's Festival and winning rave reviews across the US and the UK .  ORDER TICKETS
                        In addition to independent films and premiere events, this year's Festival features Ernesto R. Acevedo-Munoz, Associate Professor of the University of Colorado (CU) Film Studies program. Professor Acevedo-Munoz will screen "The Shining" named one of the American Film Institute's most "thrilling" experiences, and onto Martin Scorsese's list of "Top 11" horror films, Each year, program professors screen a pair of related films and lead discussion on the productions themselves and on their significance – in relation to each other, to advances and trends in the technical or creative aspects of filmmaking and/or to the times and cultures in which they were produced. MORE
    The Breckenridge Festival of Film is a 501(c)(3) private, non-profit organization governed by a volunteer board of directors. Funding for the festival comes from local public and private grants, sponsorships, fundraising events, individual contributions, in-kind assistance, and revenue from tickets and merchandise. More than 150 individual volunteers, three local theaters and other venues are involved in this annual event. Breckenridge is located 80 miles west of Denver International Airport via Interstate 70.
Beaver Run and ResortQuest announced as official lodging partners!
Breckenridge Festival of Film lodging rates start at $99 per room per night. Four "Punch Passes" are also available for $25.00. For lodging reservations and information call: ResortQuest Breckenridge at 800-627-2973 and reference Code # INT BFF
~ OR~
Beaver Run Resorts at 800-525-2253 and mention The Breck Film Fest!
To make your Festival plans, view the schedule with a short synopsis of each film, purchase passes, and keep informed of events and parties during the Breckenridge Festival of Film, go to www.breckfilmfest.com ..