Breck Buzz: Spring Fever and Ozomatli in Breckenridge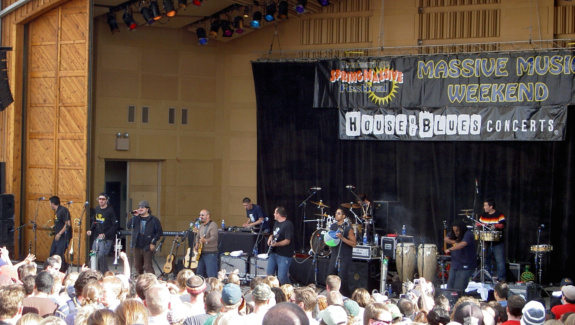 It's spring time in Breckenridge and you know what that means…..that besides skiing, there are all sorts of cool concerts and activities happening.  And this year's lineup is so hot it will give you a fever.
A "Spring Fever" that is.   Breckenridge is hosting "Spring Fever" with a lineup of bands and specials that will make you want to call in to work and use your sick days.  And my personal favorite:  a FREE concert by the Los Angeles-based band, Ozomatli.
If you haven't been listening to Ozomatli, you've been missing out.  For those of you not in the know, "Ozo" describes their music as an "urban-Latino-and-beyond collision of hip hop and salsa, dancehall and cumbia, samba and funk, merengue and comparsa, East LA R&B and New Orleans second line, Jamaican ragga and Indian raga."  Translation: imagine a blend of Santana, the Gypsy Kings, world music and music that just makes you want to get up and dance.  Ozo is one hot band that knows how to put on a show.
They were last in Breckenridge in the spring of 2006 and they put on an awesome concert.  Not only was their music superb, they had high energy and an interactive style that had the audience cheering, clapping and dancing with them.  My personal favorite was when they continued playing, coming off the stage and dancing through the crowd.  All while continuing to play their music….it was awesome!  Since then I've gotten five of their CDs.  Sure, they're on iTunes, but I want their actual CDs to have and hold.  Come listen to them and you will too.
Have you noticed I've used the word "awesome" already more than a few times?  Well, because they are, both the LA Dodgers and the LA Clippers have used their music and they've headlined the Hollywood Bowl twice.  Not to mention, Ozo has a community service focus, which is why they were recipients of the 2010 Local Heroes Award by the Los Angeles PBS station KCET-TV and they've also been named U.S. State Department Cultural Ambassadors.   From what I can tell, they're so busy going around doing good things, I wonder how they have time to create new music, but somehow they do.  Which is good for all of us too.
So, if you're already an Ozo fan, I know you're heading to Breckenridge Ski Resort at 3:00pm on Sunday, April 10 to hear them.  And if you weren't already a fan, hopefully you've figured out that this is THE concert to see this year.  And the best part?  It's free.  Absolutely free.
I know, it's awesome, isn't it?