All-Aboard!!! Durango Blues Train ready to Roll and Rock!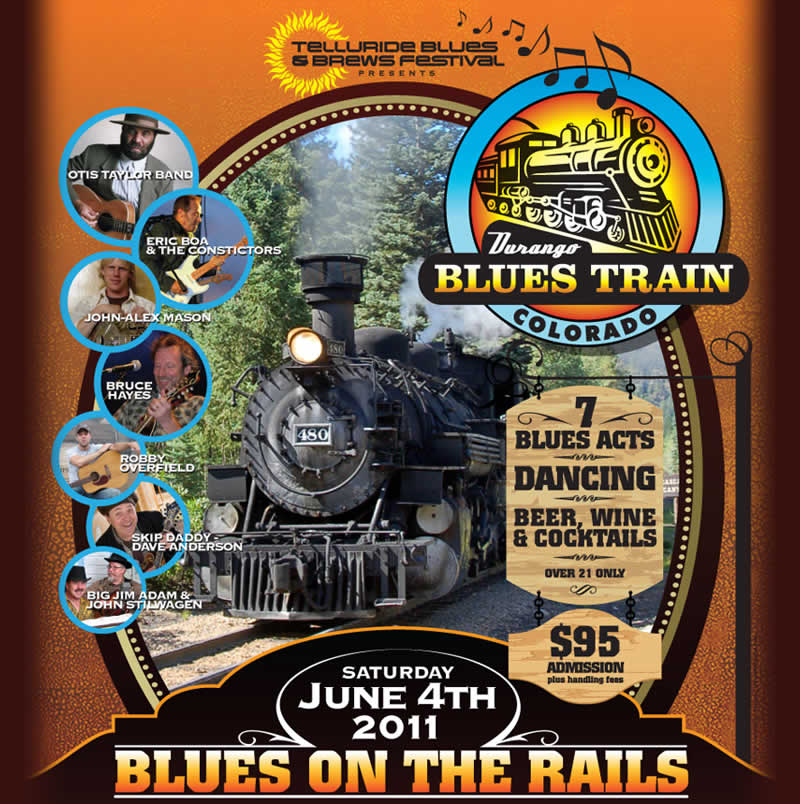 Imagine traveling by coal–‐fired, steam–‐powered locomotive through the spectacular and breathtaking canyons of the San Juan National Forest. This exclusive musical event takes place on the Durango & Silverton Narrow Gauge Railroad featuring 7 live blues bands, nine vintage rail cars and a party environment that will guarantee an unforgettable experience.
 B
lues Acts include the Otis Taylor Band, Eric Boa and the Constrictors, John–‐Alex Mason, Bruce Hayes, Skip Daddy Dave Anderson, Robby Overfield, and Big Jim Adam and John Stilwagen. Each blues artist performs in their own vintage coach car, as listeners are free to dance, move and sample all the musical acts while traveling from one railcar to next. Entertainment and favorite libations are peppered with the scenery of the famous train featured in the Hollywood production, "Butch Cassidy and the Sundance Kid".
All-Aboard!!!! The Train boards at 6:45pm from the Durango Train depot, hits the tracks at 7:15pm and arrives back in Durango at 10:10pm. Tickets are extremely limited and purchasers must be 21 years old to participate. get your tickets:   
Visit http://www.durangobluestrain.com/ or call 1.866.515.6166
Photos Courtesy of Durango Blues Train and Durango & Silverton Narrow Gauge Railroad.